One thing is sure through witnessing the Whit Stillman film Damsels in Distress: Greta Gerwig is one of our most astounding up-and-coming actresses. After stealing scenes from both Russell Brand and Helen Mirren in Arthur, she runs the show in Stillman's latest movie. Her Violet is the queen bee, yet has layers of personal uncertainty that makes what could be an average film extraordinary.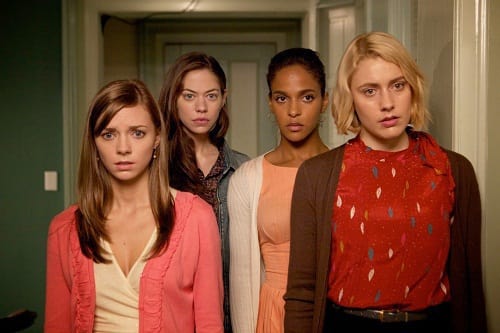 Analeigh Tipton
is Lily and she has the honor of meeting Violet and her two charges as they push her entire agenda onto Lily. Given the transfer student's unfamiliarity with the school, she accepts the trio's kindness and becomes part of their little clique. The former model's performance is another delight in this charming film. She is tentative about herself, and even appears uncomfortable in her own skin. So, it's easy to see how she would fall in line with the
Damsels
led by Gerwig. As the film progresses, her shyness turns into an air of confidence that completely alters where we thought the film was heading.
Violet runs the college campus' suicide prevention center. It's a paltry operation. When someone arrives in a huff that he believes his neighbor may be suicidal given her recent break-up, she meets someone who makes her question her own modus operandi.
Although the film is a fantastic ensemble, that also features Adam Brody,
Megalyn Echikunwoke and Carrie MacLemore
,
Damsels in Distress
should serve as the launching pad for a stellar career for Gerwig. She shows range throughout the movie that is simply powerful. Stillman has crafted a farce of fiction that lives and breathes through Gerwig's characterization. In her hands, the film hits all the right beats.
Stillman is a filmmaker who has split audiences. He is an acquired taste for sure. His work on The Last Days of Disco, Metropolitan and Barcelona have his fans' passion in high gear. There's a quirkiness to his work and it is not for everyone. But, with Damsels in Distress, he should garner more fans. This writer was not the biggest fan of his first three films, yet has been converted to the Stillman cinematic sense with his latest.

With 1998's The Last Days of Disco being his last film before Damsels in Distress, Movie Fanatic hopes that he doesn't take fourteen years to give us a follow-up.