In the Lawrence Kasdan directed Darling Companion, Diane Keaton and Kevin Kline are a Colorado husband and wife who go from not having a dog, to having a canine completely consume their life. And that is a very good thing, because as anyone who has a dog can attest, they become family. The film begins with Keaton driving down the highway with her daughter (Elizabeth Moss). She sees something on the side of the road and quickly pulls over. Surprised, she discovers it's a dog who is injured and in need of help.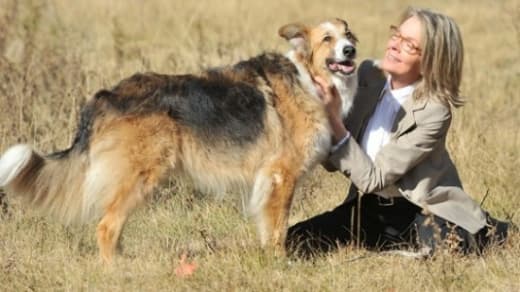 They name the dog Freeway, adopt him and things seem peachy. The film picks up a year later and now the animal is ingrained into their lives. While the entire clan is away for their daughter's wedding (you'll never guess who she married) in rural Colorado, Freeway takes off while Kline is out with him on a walk. He is simply gone. Our film then spends a majority of its storytelling time making a familial character study through the massive search for their best friend.
In this capacity, co-writers Lawrence Kasdan and his wife Meg Kasdan have crafted the type of character driven drama and comedy that they perfected with
The Big Chill
and
Grand Canyon
. In fact, the Kasdans see
Darling Companion
as the third in a trilogy of those first two films. It's not quite as completely moving as those two films, but it does work on many levels.
First and foremost, Keaton and Kline are a match made in heaven. We could watch them walk through the woods talking about their marriage, kids, dreams, disappointments and drama all day. Those two actors, who came up in Hollywood together but have never played husband and wife, are impeccably cast. Kline's uptight spine surgeon has drifted mentally from the marriage and Keaton does her best to reel him back in. He wants to become a better husband, and through Kline's performance we see the man slowly peel away the layers of stoic nature to reveal a warmth.
The supporting cast delivers as well, especially Richard Jenkins and Dianne Wiest as Kline's sister and her boyfriend. The pairing of Wiest as Kline's sister is a stroke of genius.
Jeff, Who Lives at Home
filmmaker Mark Duplass and Ayelet Zurer are also stand outs. Duplass and Zurer have a flirty attraction that often sparks the search for Freeway.
As the six people spend days on end searching for the lost animal, the interconnectedness of the character dynamics is something only the Kasdans can achieve successfully over a two hour film.

Like so many other of Kasdan's films, the people are all too real, their problems and triumphs are palpable and in the end -- audiences have been treated to an adult drama with humor that sticks with you.