Lockout storms into theaters April 13 and is a true throwback of a film. It recalls the 1980s action films where the hero is spouting quips that send the audience into fits of laughter (Vote: What is your favorite action comedy of the 1980s?). Guy Pearce is our hero and in the futuristic thriller, he is charged with rescuing the president's daughter (Maggie Grace) who is being held captive on the orbiting-around-Earth high security prison. FilmDistrict and Movie Fanatic have partnered to bring you an exclusive prize pack from the film that includes an autographed poster by the stars, a Lockout T-shirt, flashlight and drawstring bag.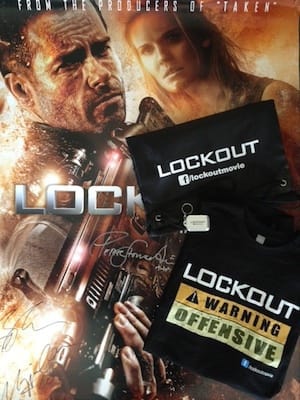 All you have to do is
register
with Movie Fanatic (or
login
if you're already with us) and leave a comment below, letting us know what your favorite sci-fi action film is and why. So, enter now!
We will choose a winner on April 16… so don't hesitate!