Five-Year Engagement Exclusive Interview: Nicholas Stoller's Heartfelt Humor
by Joel D Amos at . Comments
Nicholas Stoller, or Nick as everyone calls him, is as known for his screenplays with frequent star Jason Segel (The Muppets, Forgetting Sarah Marshall) as he is for the films he writes and directs (Forgetting Sarah Marshall, Get Him to the Greek). Now he's back pulling double duty, writing and directing with the romantic comedy The Five-Year Engagement. Stoller is at the Four Seasons in Beverly Hills to meet Movie Fanatic for an exclusive interview delving deeper into his process, what surprised him about star Emily Blunt and how he crafts rom-coms that break the mold.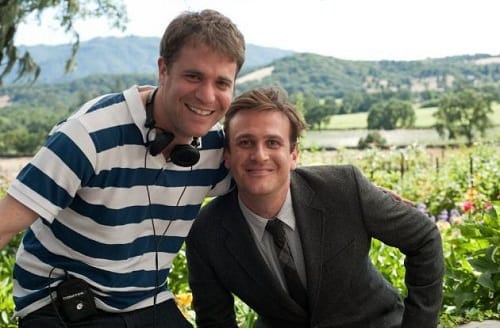 After working on this project for so long and being so personally involved, Stoller is just ready for people to see it already! "Who knows how it's going to do. I just love the movie so much. It's exactly the kind of movie I'd want to go see. You put a lot of time into writing and making a movie. There's also a lot of luck. I think it really came together, all the elements," Stoller said.
"We got an awesome cast and everyone's firing on all cylinders. Jason and Emily have such great chemistry and Chris (Pratt) and Alison (Brie) are so fantastic together. I'm excited for people to check it out."
The genesis of the story of
The Five-Year Engagement
had been mulling around in Segel and Stoller's head. One day, the universe responded with a title that put everything else into place.
"We both wanted to do another romantic comedy after
Sarah Marshall
and I've always been obsessed with how relationships work, especially over time. The great movies like
Annie Hall
and
When Harry Met Sally, Broadcast News, Terms of Endearment
… these are all movies that take place over a longer period of time. We knew we wanted to do that kind of relationship movie and the words 'The Five-Year Engagement' just kind of popped in my head. That's it!" Stoller said, laughing.
He had a pretty good idea that the chemistry between Segel and Blunt would work, but how well was a true surprise. "I had heard great things," Stoller said of Blunt. "You don't really know until you start working with someone who is honestly fun to work with. You don't know! She's won awards. She's far classier than any of us. I didn't know if she would hang with us on set. I like it when actors all hang out. I just didn't know. You know what? It was as if she had been a part of our group of friends forever."
Having a producer in Judd Apatow (
what's your favorite film of his?
) as a sounding board has proven meaningful beyond anything he learned studying comedy and film. "He's been my mentor forever. He's there as quality control. He is the heart of the material," Stoller said. "A lot of times as you get more successful in the film industry, you get a lot more 'yes' people around you. He is more like, 'Yeah, that's not good.'"
Stoller then shared a behind-the-scenes moment where Apatow proved his mettle cutting what doesn't work. "There was a plot point that Jason and I wanted to do. Part of the movie's theme is about the fleeting nature of life. We wanted this subplot where Jason's father passes away unexpectedly and Emily shows up and that brings them back together. We were excited about it. But Judd, he just said, 'That, to me, feels like a move of convenience. That's not a reason, not a character-driven move why these two people would get back together. Anyone would show up for that.' If Judd hadn't been there, we probably would have shot it and then seen it in editing and then either re-shot it or cut it anyway because it doesn't work. He's got a very clear eye."

What's next for Stoller? Could there be more Muppets?

"I'm writing the sequel to The Muppets right now with director James Bobin. I'm just trying to figure out what my next directing thing is. I'm not really sure yet, which is exhilarating and terrifying at the same time. Five-Year and Greek I wanted to direct. The Muppets wasn't really my skill set. James Bobin is so good at it. When you direct something, you have to be really in it. James knows the name of every single Muppet, no matter how obscure. His encyclopedic knowledge of music videos is incredible. I'm not that visually interesting a director," he said and laughed.
"I like putting a camera somewhere and just letting people talk. I'm more interested in the emotional. The camera moves once like every eight scenes."