The Five-Year Engagement re-teams Forgetting Sarah Marshall's screenwriting team (Jason Segel and Nick Stoller), star (Segel), producer (Judd Apatow) and director (Stoller). The team has a knack for creating comedies that are romantic and not necessarily romantic comedies. With their latest, they have done it again.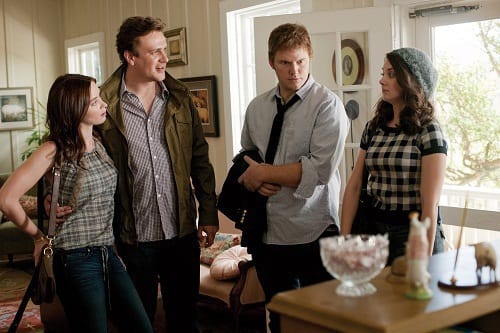 Segel and Emily Blunt play Violet and Tom, a couple whose romance is about to experience one of the greatest moments: He's going to ask her to marry him. Stoller and Segel take what would be a solid romantic moment and string it along for minutes, filled with awkwardness and laugh-out-loud humor. But, the duo get engaged and the wedding planning begins.
Fate strikes when Violet gets accepted to a graduate program in psychology at the University of Michigan. Tom's on the fast track to being a head chef in their hometown of San Francisco. Her dream is calling, so they put off the wedding and head to Michigan. That's where filmmakers have a field day and where our simple speed bump on the way to the altar becomes
The Five-Year Engagement.
Blunt and Segel sizzle -- their romantic chemistry is electric and infectious. The audience pulls for these two to finally tie the knot, as elusive as it humorously continues to get. Segel wrote the part specifically for the English actress. She fits it like a glove and she gets to perform the role using her native tongue. Alison Brie portrays Violet's sister and as such, she herself had to master an English accent. She and her onscreen partner for most of the film, Chris Pratt, nail their supporting roles. Brie mimics Blunt's lilt without it being a carbon copy.
In terms of Stoller and his directing, we want more. Between writing The Muppets with Segel, directing The Five-Year Engagement and starting on penning The Muppets sequel without Segel… it may be a while before we see him in the director's chair. Movie Fanatic hopes it is not that long. His timing, cast chemistry building, pacing and ability to build a tapestry of cinematic joy that equally brings the heart-pounding romance and the "oh no he didn't" comedy… is uncanny.