Fans of The Hunger Games continue to feed the frenzy as the film scored its second straight victory at the weekend box office. The Suzanne Collins page-to-screen effort added another $61.1 million in its second week of release. The flick broke all kinds of records last week with its $155 million debut. Even with three new films opening this weekend -- Wrath of the Titans, Mirror Mirror and Goon -- the story of Katniss and her adventures made almost twice as much as its nearest competitor.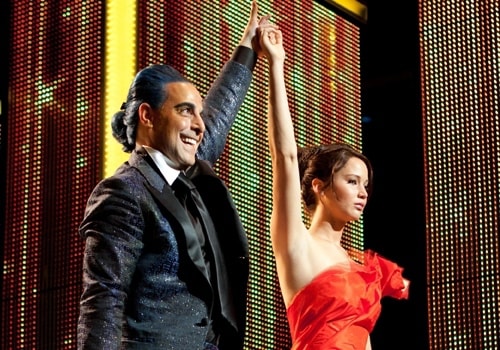 The sequel to 2010's
Clash of the Titans
,
Wrath of the Titans
, had to settle for a second place finish with a respectable $34.2 million. Julia Roberts' turn as the Evil Queen to Lily Collins' Snow White scored third place for Tarsem Singh's
Mirror Mirror
with a $19 million take.
The last film that wasn't
The Hunger Games
to top the box office,
21 Jump Street
, continued its solid performance with a fourth place finish, scoring $15 million.
The Lorax
also kept up solid numbers with its fifth place finish, adding another $8 million to its haul.
Box office top 10:  
1.
The Hunger Games
, $61.1 million
2.
Wrath of the Titans
, $34.2 million
3.
Mirror Mirror
, $19 million
4.
21 Jump Street
, $15 million
5.
The Lorax
, $8 million
6.
John Carter
, $2 million
7.
Salmon Fishing in the Yemen
, $1.3 million
8.
Act of Valor
, $1 million
9.
A Thousand Words
, $915,000
10.
Journey 2: The Mysterious Island
, $835,000