First and foremost, Lockout could have been the most average of films, but with the stellar turn by its star Guy Pearce, it is a great joy.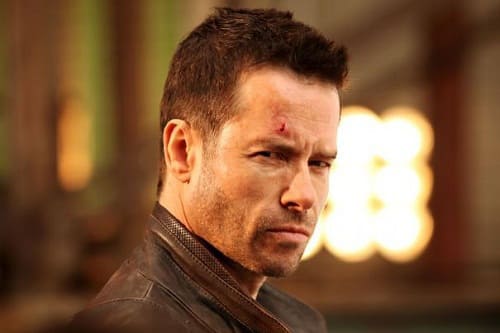 In the film that takes place 70 years in the future, Pearce plays Snow, a former CIA agent who is -- rightly or wrongly -- charged with crimes against the state. He is ordered to serve a sentence on the new orbiting-the-Earth prison in space. Meanwhile,
Maggie Grace
matches Pearce's performance note for note as the daughter of the president who finds herself at the prison on an informational mission. When a riot breaks out, she's caught in the middle and the only person who can save her is Snow.
We were reminded of films such as
Die Hard
and its ilk in that Snow has quips that recall John McClane. Pearce delivers them with such flamboyance that we think we've found our new action star. Hollywood has been searching for its next action star as Bruce Willis gets a little long in the tooth and might we suggest Pearce be considered for the position. He is bulked up and explodes off the screen in every frame. His comic timing, coupled with his innate ability to carry out action scenes, had us begging for more when the credits rolled.
Not missing a beat either is the former
Lost
star. Grace's president's daughter is hardly a wallflower. Once Pearce and Grace get together, the sparks fly. It's not that they don't like each other, but more the fact that if they had not been thrown in the same powder keg of a situation, we doubt they would even share a glance.
Lockout
is from the mind of Luc Besson (
The Fifth Element
). The producer also co-wrote the film and his handprints are all over it. There's a pacing that is pure Besson, and Pearce fits it like a glove. Co-directors James Mather and Stephen St. Leger know Besson's work so well that they too meld into his world perfectly and capture the pace and panache of the visionary's method and style.
The film has serious holes, sure, but as is the case with most purely popcorn flicks, we can forgive it. Upon hindsight, there are aspects of the story we wish had been better laid out and the ending, although spectacular, does not quite work for us. That being said, the power of witnessing Pearce do his thing, exploring Besson's world as imagined by Mather, and St. Leger and it all adds up to one of the great joyrides of the year… so far.