Rise of the Guardians Exclusive: Jeffrey Katzenberg & Peter Ramsey's Fantasy Film
by Joel D Amos at . Comments
Rise of the Guardians producer Jeffrey Katzenberg and director Peter Ramsey stopped by for a quick exclusive chat at CinemaCon about their upcoming animated epic. The film has an incredible cast featuring Alec Baldwin as Santa Claus, Hugh Jackman as the Easter Bunny, Isla Fisher as the Tooth Fairy, Jude Law as the Boogeyman and Chris Pine as Jack Frost. The film imagines what would happen if all the great childhood fantasy legends came together to fight the Boogeyman. In Rise of the Guardians, the evildoer who lurks in children's closets and under their beds seeks to stamp out these characters forever.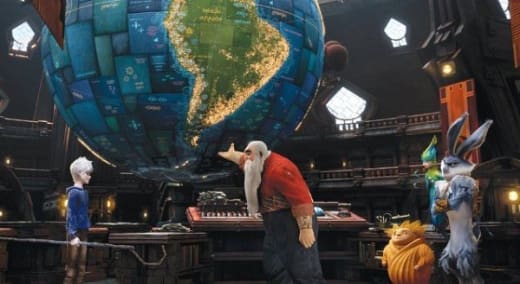 Katzenberg was drawn to the books that the films are based upon immediately and thought they would make a great transfer to the big screen.
"I think that's the brilliance of Bill Joyce," Katzenberg said. "Because as an amazing author and storyteller does, he makes great even the simplest of ideas such as: What if all of those characters that have been icons all of our lives, actually come together to work as one to actually take on a deep, dark force that's rising? It's a very simple, yet brilliant idea."
From the footage we saw at CinemaCon and the work Katzenberg has seen his director doing, this industry icon is clearly impressed with
Rise of the Guardians
. "Peter and his team have done an incredible job bringing that to life," he added.
Even without having the opportunity to helm a big studio animated film, Ramsey is honored to simply be a part of the studio started by Katzenberg, Steven Spielberg and David Geffen.

"My time at DreamWorks has been fantastic and I'm not just saying that because he's here," Ramsey said, pointing at Katzenberg who laughed. "This project in particular, as a fan of movies and fantasy, combines so much of that epic adventure quality with spectacle that produces even deeper feelings than usual at the movies. It takes me back to when I was a child believing in Santa Claus, the Easter Bunny and the Tooth Fairy. I have kids who feel the same way. It's a real combination of forces for me."