There was a lot of awesomeness to take in at the 20th Century Fox presentation at CinemaCon. Prometheus anyone? No real new footage from Ridley Scott's upcoming adventure, yet still amazing to finally see footage on the big screen! But, there was something that caught our ears from Tom Rothman, Co-Chairman and Chief Creative Officer of Fox Filmed Entertainment. He was speaking about their upcoming slate and then described the highly anticipatory films from Fox's future. Rothman turned immediately to films he hopes will start shooting by the end of summer and the Rise of the Planet of the Apes sequel was on the list.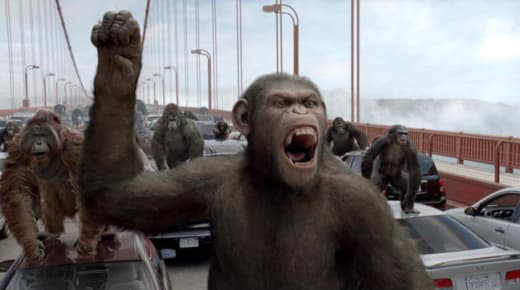 Wait… what? Consider it confirmed that the sequel to the wickedly successful
Rise of the Planet of the Apes
will begin production before the leaves begin to fall. The Fox executive also stated that
The Wolverine
,
Robopocalypse
from Steven Spielberg, and Vince Vaughn and Owen Wilson's reunion flick
The Internship
will all start shooting soon too.
Our question is, how can Andy Serkis be in two places at the same time? As we understand it,
The Hobbit
sequel
There and Back Again
will still be shooting this summer. Perhaps Gollum will be done by then? That ring-obsessed fellow can't keep Caesar from living again so vibrantly!