We've been treated all week here in Las Vegas at CinemaCon with looks at The Hobbit, The Dark Knight Rises and more. Today's thrill factor went through the roof as Movie Fanatic witnessed the world premiere of the trailer for Skyfall. We have no idea when it will be available for us to bring it to you (we're thinking it will first appear before Men in Black 3 in May), but it is our duty to tell you what we saw.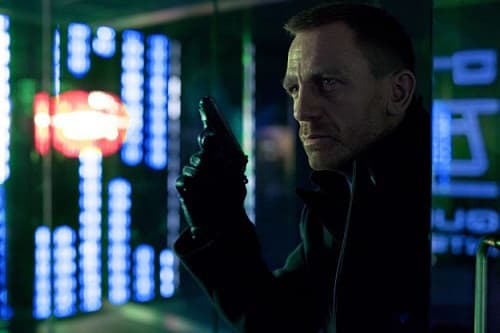 The trailer begins with Daniel Craig looking his badass Bond-est best. He is being interrogated utilizing some sort of word association game while Ralph Fiennes looks on behind a one-way mirror.
The questioner says, "Country." Bond responds, "England." That is followed by the word "gun" being uttered. Bond's response? "Shot." The next word is "agent." Craig responds in a deliberate monotone, "Provocateur." The session continues with "murder" to which our super agent responds, "Employment." Then… the word Skyfall is uttered. Bond quickly gets up, shouts "done" and leaves the room.
And we're off…
Action permeates Bond films and
Skyfall
appears to be no different. Excitement permeated with the images of Bond running, standing over a bevy of caskets adorned with the Union Jack, a mysterious shot of a silhouette (we think it's Javier Bardem's villain), helicopters flying over London, night shots of Shanghai, explosions, music swelling… and then a close-up on Craig.
"Someone is coming to kill us. We're going to kill them first."
What struck us the most about the over two-minute teaser was how crisp the cinematography appeared. Director Sam Mendes is new to the action genre, but his adoration for everything Bond growing up in the U.K. is present on every frame.