Where to begin with Sound of my Voice? As the movie commences is the place. There is no exposition. In fact, there is hardly a word spoken for almost 10 minutes. The audience must buckle up because the next 84 minutes are a ride.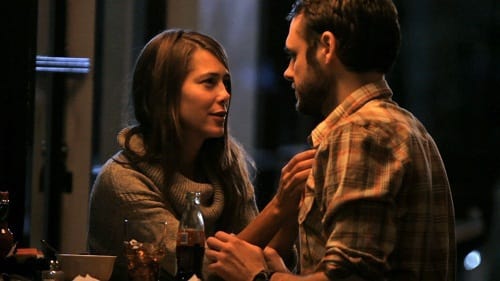 Christopher Denham and Nicole Vicius portray Peter and Lorna. They are a couple who are apparently allowing themselves to be bound, blindfolded and taken in a van a house in The Valley near Los Angeles. There is reason behind what appears to be madness. But, we will not be sharing that with you today. We will say this, Peter and Lorna are being brought to a cult and are working their way into being accepted the group.
The collective is led by Maggie (Marling). She is a mysterious soul who claims to be from the future. The house is barren. Yet there is a buzzing power to it. We as the audience are drawn there as is the couple at the center of
Sound of My Voice
. It quickly becomes difficult to discern between infiltration and possession.
Marling, after wowing in last year's
Another Earth
, crafts a yarn with director and co-writer Zal Batmanglij that is wickedly original. In some ways their story is a simple one. Yet upon further reflection
Sound of My Voice
it's basic in premise alone. In execution, it is a marvel of multi-layered mastery of the art of film.
Music is used sparingly. In fact, hearing a Cranberries song in one scene is simultaneously hilarious and a plot shaking scene.
What Marling showed in
Another Earth
that if you dreamed big and filmed within your means -- with a stellar story -- movie magic happens. In her latest, we have a film that chills, inspires and emotes the entire human emotional scale. It is a marvel of modern filmmaking.