Marc Webb is stressing that his The Amazing Spider-Man will be wildly different than the trilogy helmed by Sam Raimi. "I wanted to give the audience something new," Webb told MTV. The director stated that the origins of Andrew Garfield's Spider-Man will not be completely revealed and tied with a bow by the closing credits of this first film. He sees it as his own trilogy. "That started off with getting underneath the parents' story, which will unfold over probably a few movies. We don't totally wrap up that story in this first movie. It's sort of an ongoing mystery."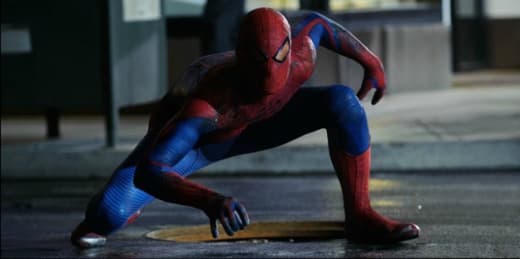 Peter Parker's parents were not present in Raimi's series and Webb felt that was one way to set his film apart from the Tobey Maguire-starring films.
What else is different you ask? Well, for one, that infamous spider bite scene that launched Maguire from lowly high school student to superhero won't be so black and white in Webb's film. "There are obligations to the canon, in terms of Uncle Ben and the spider bite, but the conditions under which those things happen are very different," Webb said. "The character is evolving in a different way. It's about finding a balance between iconic elements of the Spider-Man mythology -- like how Uncle Ben's death transforms him emotionally -- but it happens in a different way."
So, there is no spider falling from above and taking a nip at Parker, huh? "He's bitten by a spider," Webb hinted. "But maybe it's not a radioactive spider. Or maybe it is! You'll have to see."
And see we will when
The Amazing Spider-Man
premieres July 3.