Robert Downey Jr. has donned the Iron Man costume in two of his own stand-alone movies, and now in The Avengers. In our interview with the actor, he begins by dishing what it is he likes so much about the metal-suited superhero. "I like that he didn't really set out to do anything noble," Downey said. "He's in transition, so there's something a little more Hans Solo than Luke (Skywalker) -- also, the fact that he can pull off wearing a Black Sabbath T-shirt, for the better part of the film."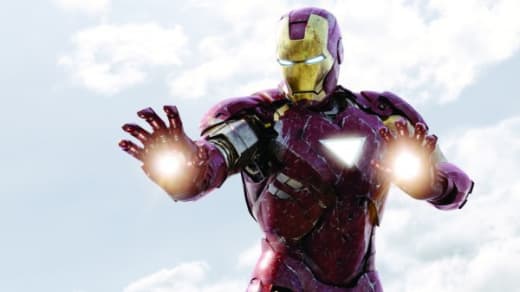 Bringing the Hulk (Mark Ruffalo), Captain America (Chris Evans), Thor (Chris Hemsworth), Black Widow (Scarlett Johansson) and Hawkeye (Jeremy Renner) together for a movie has been a dream of Marvel Studio head Kevin Feige for some time. While Downey was making
Iron Man
, he recalled what Feige told him about his ultimate dream for his superhero studio.
"Going back to 2007, when I was cast in
Iron Man
, Kevin Feige said, 'You know, this is all going to lead to where we're going to have all of these franchises come together and we're going to do something unprecedented in entertainment and we're going to make this
Avengers
movie.' I just remember that I would get nervous about it and excited about it and doubtful of it," Downey recalled.
"By that time, I already had a history with Sam (Jackson, who plays Nick Fury) and really wanted to capitalize on that. By the time Chris (Hemsworth) and Chris (Evans) had launched their individual franchises with success and charisma, and by the time we had Mark (Ruffalo), I was like, 'Wow, this is really going to happen.'"
One of the great joys of
The Avengers
for the Oscar-nominated actor was being a part of this superhero ensemble of acting talents. "Just being a worker amongst workers is where I started out, and it was nice to not really have to carry a movie," he said. "I think everyone really, really, really, really is equal in this venture."
One thing that struck us upon viewing
The Avengers
is the fantastic humor that is sprinkled throughout the spellbinding action. Downey credits the film's writer-director, Joss Whedon, for hitting all the right notes. "Joss' wit is funny. And he also is able to hold the whole myriad of ideas and notions together that you have to get right for
Avengers.
What he accomplished is incredible," Downey said.
The other aspect of the marvel of a Marvel film was how Whedon gave every superhero their time in the spotlight, without ever sacrificing plot. Downey reported that each actor that arrived on set in
The Avengers
superhero conglomerate knew their place given the framework of the stellar Whedon script.
"What everybody captured for their character was the right tone. At a certain point, without killing it, you tip your hat. We don't take it too seriously. This is essentially a comic book movie, but you buy into the reality of it. So, I think everyone has their moments. Joss did a good job of finding everyone's frequency. When Cap says to Thor, 'I'm pretty sure God doesn't dress like that,' it was still within the realm of what Steve (Rogers) would say and do. It's funny, but also, tonally perfect. The Avengers could have fallen flat on its face and had people not be able to suspend their disbelief or get behind it, but the movie succeeded."

There are dozens of indelible images from the film, but the one that stands out for Downey is the same one that has given fans chills in The Avengers trailer. It is the scene where all the heroes stand in a circle and Whedon's camera whips around in a 360-degree turn. "There's that first time that we're all assembled on the bridge, when we all see each other and realize that we're probably likely to continue shooting the movie because we had to make good on this vision of Kevin Feige's (Marvel studio head)," Downey said. "I'll never forget that as long as I live."