Hollywood saw one of its biggest premieres with The Avengers and Movie Fanatic was there and still has the ridiculously enormous grin. An entire Los Angeles city block was closed down, causing a traffic snarl that few circling the El Capitan Theatre and Mann's Chinese Theater seemed to mind. This was after all… the world premiere of the Walt Disney and Marvel Studios superhero juggernaut.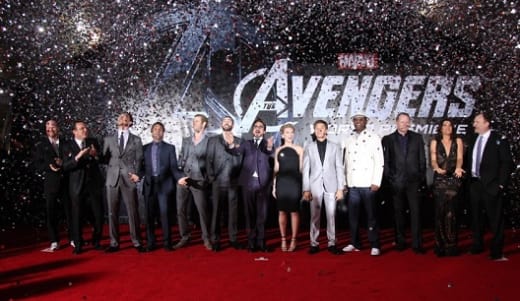 We have participated in dozens of premieres, including the recent The Hunger Games, but nothing compares to what was witnessed April 11, 2012 when Iron Man, the Hulk, Captain America, Thor, Black Widow and Hawkeye got together and created movie magic. Legions lined the street, just for a glimpse of their favorite. In order to get our tickets, it took over an hour to find Will Call in the sea of people.
Upon entering the theater, we were given our 3D glasses. These are no ordinary specs. Each one is custom made to celebrate one of the film's heroes. We were lucky enough to be given Iron Man's gold and red face accessories. They would take us on the fantastic voyage that is three dimensions of Avengers awesomeness. The theater grew dark and our adventure was on.
Being celebrated is the usual fare at a movie premiere, but on this night, it was different. Like Thor himself, everyone involved with the Joss Whedon film was being exulted for a job well done. That is because they are onto something. We cannot share any details of the film until May 2, but let's just say this (and we repeat words from our Disney source that we ran over a week ago): It. Is. Awesome. Well put indeed.