The Dark Knight Rises stars Christian Bale and Anne Hathaway are featured on the cover of the new summer movie preview issue of Entertainment Weekly. The dressed-in-black duo are anchoring the final film in Christopher Nolan's Batman trilogy and fans of the series get some insight into the film with quotes from the film's stars and Nolan. The helmer first talks about his feline fighting heroine. "She has a very strong way of protecting herself and those she cares about," Nolan said of Hathaway's Catwoman. "Which implies an underlying darkness."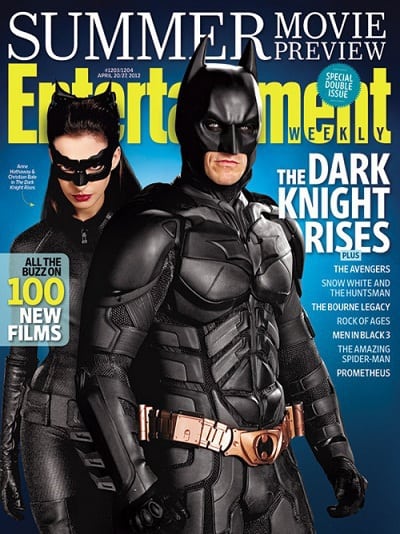 Hardy chimes in and urges calm when it comes to the backlash against his speaking voice, as evidenced in the
film's trailer
. "The audience mustn't be too concerned about the mumbly voice. As the film progresses, I think you'll be able to tune to its setting," Hardy said.
Nolan then adds his impressions of Hardy's portrayal of the evil Bane. "He represents formidable physical strength, combined with absolute evil of intention," the director said.

The Dark Knight Rises arrives July 20 and also stars Gary Oldman, Michael Caine, Morgan Freeman, Joseph Gordon-Levitt and Marion Cotillard.