The beyond excitement that was generated after witnessing 10 minutes of The Hobbit footage during yesterday's Warner Bros. presentation at CinemaCon was equaled when Christopher Nolan took the stage to introduce a sizzle reel from his The Dark Knight Rises. There was a virtual Bane's army full of new visuals in it and we proudly bring you a rundown of what we saw.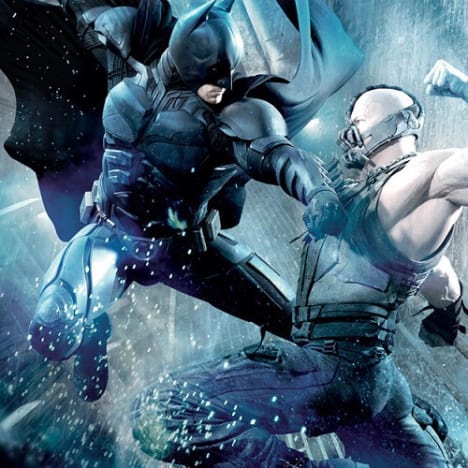 "What defines cinema and gets people out of the home to watch it, is spectacle. What we wanted to do with this story was finish it in the biggest way possible. These are characters we know and care about and we hope this will be a thrilling and satisfying conclusion," Nolan said before dimming the lights and taking our breath away.
The footage starts with Bane getting freed from his airplane lockdown in the most devious of ways. It is spectacular. What struck us next was our first look at Christian Bale's Bruce Wayne. He looks a bit haggard. Is he injured? Is he getting old? (The story takes place eight years after
The Dark Knight
.) Michael Caine's Alfred assures our off-his-game hero that he will be back. "Don't worry, Master Wayne. It takes a little time to get back in the swing of things," Alfred says.
Then we meet Anne Hathaway's Selina Kyle. She is in a maid uniform and appears to be "working" at Wayne Manor. But, is she? She walks away from the building and tears off her white maid uniform neck frills to reveal a black dress.
Thus far, there is not a lot of character interaction in terms of dialogue. But, what Nolan has provided us is even better. He lets our imaginations soar with the images while his film's sizzling score builds and builds as the video continues.
Joseph Gordon-Levitt makes his first appearance in the footage and his Gotham beat cop appears to be seriously integral to the plot. He is deeply involved in fighting the oncoming onslaught of Bane.
That was the other thing that struck Movie Fanatic from the footage. It seems that Bane has inspired, perhaps launched, an all-out revolution on the streets of Gotham. As we've seen in
The Dark Knight Rises trailer
, he all but destroys a football stadium… and that is just the beginning, Batman fans!
And lastly, we must say that all the prior talk about not being able to understand Tom Hardy as Bane was proven to be nonsense. His characterization is flawless as the evildoer, and more importantly, in the evil department… he is rivaling a certain actor who went on to win an Oscar for playing The Joker.
Oh, and we would be remiss not to mention one of Batman's new toys that is utterly brilliant. We got our first look at The Bat, the flying wonder machine that plays an integral part of the plot.
In the end, Nolan's sizzle reel was in fact more of a heat-seeking missile of awesomeness. When the film's next trailer premieres before The Avengers, prepare to be swept away!