The Five-Year Engagement: Jason Segel & Emily Blunt on Finding the Funny
by Joel D Amos at . Comments
Jason Segel and Emily Blunt bring the romantic hijinks to life in The Five-Year Engagement. The pair is talking to Movie Fanatic about the new romantic (and raunchy) comedy from Forgetting Sarah Marshall co-writers Nicholas Stoller and Segel.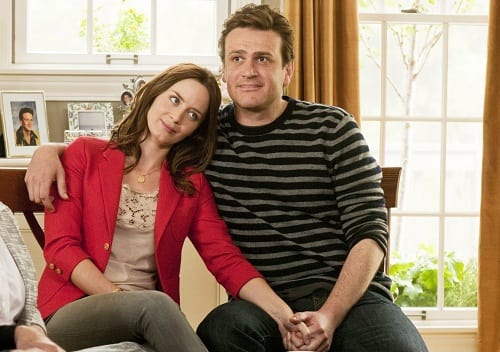 In the Judd Apatow-produced film, the pair plays an engaged couple who find life's speed bumps keep getting in the way of their nuptials. Just as they believe they are set on a date, Blunt's character is accepted to grad school halfway across the country in Michigan from their San Francisco home.
Segel
and Blunt talk about the actor's penchant for culling laughs from nudity and the chemistry between the two that Segel knew would be there as he wrote the part specifically for the English actress.
Movie Fanatic:
Emily, how did you manage to portray your Violet as someone we're pulling for, even though her success brings Jason's character sacrifice with little professional reward?
Emily Blunt:
I have to credit Jason and Nick, because I think it's a very fine line to tread. You want to understand everyone's predicament. You can see that Violet isn't fulfilled at the very beginning of the movie, and then she finds her place in the world when she moves to Michigan and she has this fantastic job. Yet, she can see that it's making her other half suffer, and even though she wants to embolden him and help him and be there for him, he shouldn't martyr himself either. It becomes quite complex as to how she feels in the moment. I think that is a credit to Nick and Jason -- how they wrote that. You don't necessarily side with anyone. You understand people's position. I think it's no bad thing that Violet's a tenacious girl. I think it's no bad thing that Violet is following her dreams. I don't think she's heartlessly doing so. I think she definitely gets swept up in it for sure, and she's hoping that Tom will be able to survive in this environment as he's promised her he would be able to, so it's complex.
Jason Segel:
The only reason you question if it's heartless or if it's selfish is because it's a woman.
Emily Blunt:
Yeah.
Jason Segel:
Honest to God. That same plot, if it's the man that's moving, everyone would be like, "Well, of course. It's his job. You've got to go support him." I try to write every part as though I'm going to play it, including the female parts. I don't think of how would a girl speak or talk. People are all the same. I really do think that. People are all the same. It's going to be a female by the fact that she is biologically a female.
Movie Fanatic: Is it difficult, Jason, now that you've written and filmed two romantic comedies that are anything but traditional, to create something so original in a sea of repeated storylines?

Jason Segel: Yeah, it was a challenge to write, and was certainly a challenge to edit, because there are no big plot movements. There's no car accident. there's no big earthquake where someone dies or something. There's also no big contrivance, like "I'm a scientist and she hates science." It's a very earnest exploration about how a relationship is fluid, and when you choose a partner and you say, "I want to marry you," you're not saying it for this moment, you're saying it for your whole life and what's going to be ever-shifting power dynamics. It really is an honest exploration of relationships, and yeah, it was tricky to write, but the best ones are that. Annie Hall is that, and When Harry Met Sally is that.

Emily Blunt: I do think with a much simpler premise as well, there's just so much more room to play amongst that. As actors, there's a lot you can do to really make these relationships complex and interesting, messy, flawed and loving. It's a movie with great heart. The situations these two are put in are ludicrous and outrageous and obviously heightened for the spectacle of the movie, but yet you invest in them as a couple in a very real way.