Movie Fanatic was just treated to the type of moment that made us, well… fanatical about movies. We're in Las Vegas at the annual CinemaCon and it is hard to say what the highlight of the Warner Bros. presentation was, what with The Dark Knight Rises, Campaign and Rock of Ages getting their spotlight. But, there was a chill-inducing moment. Honestly, ten minutes worth as we witnessed 600 seconds of Peter Jackson's work in progress that is The Hobbit: An Unexpected Journey.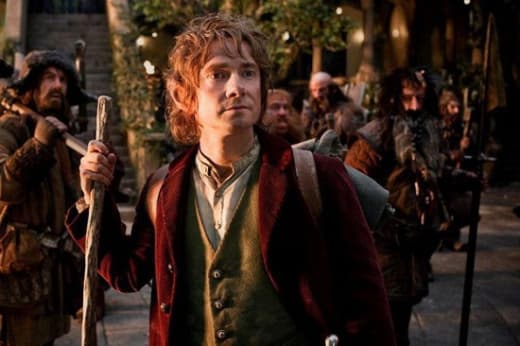 Jackson addressed the crowd and spoke of why he filmed his return to Middle Earth in the revolutionary 48-frames-per-second mode. He promised images that were as crisp and vibrant as have ever been seen. And in 3D, all the more so on the mind-blowing scale.
Then, the clip started. Emotions swelled, that is for sure as the first images follow a camera traversing the snowy mountain tops of Middle Earth and immediately the difference in the picture was evident. The new shooting style
may
have been a highlight for this Movie Fanatic, but bliss would have arose solely from the pure joy of witnessing 10 minutes of our most anticipated film of 2012.
The Hobbit
footage gave us full scenes with Sir Ian McKellen, Hugo Weaving and Cate Blanchett as well as a fantastic moment between Bilbo Baggins and the being that would become Gollum. Also on hand were scenes with Orlando Bloom's Legolas and Elijah Wood's Frodo. To say we were in
Hobbit
heaven is too tame of a description. It was rapturous.