The Hunger Games made it an even month of being on top at the nation's weekend box office. The Jennifer Lawrence-starring film banked another $21.5 million, easily topping the second place finisher, The Three Stooges. The Farrelly brothers' film debuted with a respectable $17.1 million.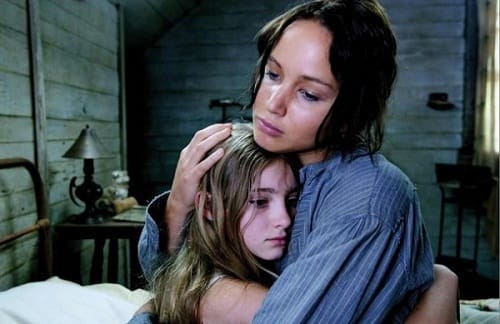 The Suzanne Collins page-to-screen effort now stands at $337.1 million and achieved a four-peat, the first time a film has done that since James Cameron and
Avatar
ruled the movie-going public.
The Joss Whedon-penned
The Cabin in the Woods
, despite critical praise, had to settle for third place with its $14.9 million bow. Speaking of Cameron, his
Titanic 3D
took the fourth place spot, adding another $11.6 million to its return-to-the-big-screen bank.
Fifth place belonged to the horny guys and girls from
American Pie
, who saw their
American Reunion
bank another $10.6 million in its second week of release.
Box Office Top 10:
1.
The Hunger Games
, $21.5 million
2.
The Three Stooges
, $17.1 million
3.
The Cabin in the Woods
, $14.9 million
4.
Titanic 3D
, $11.6 million
5.
American Reunio
n, $10.6 million
6.
Mirror Mirror
, $7 million
7.
Wrath of the Titans
, $6.9 million
8.
21 Jump Street
, $6.8 million
9.
Lockout
, $6.3 million
10.
The Lorax
, $3 million