Zac Efron is making a huge jump in his career with his role in The Lucky One. The young actor visited with Movie Fanatic recently and told us about how important this film was to him. After meeting with a group of combat veteran Marines, he felt a kinship to his role of a returning vet, as well as immense pressure to do our servicemen and women proud. There was also the added stress of knowing he was appearing in a Nicholas Sparks page-to-screen effort. This is the author's seventh film and to say he has a huge audience is a gross understatement. Efron is ready for the next chapter in his career that started with High School Musical mania. He hopes that The Lucky One… is simply the beginning.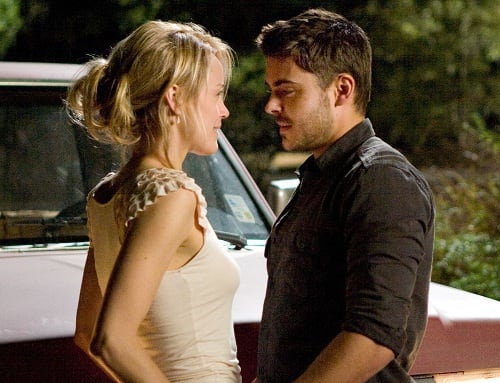 Movie Fanatic:
To get ready for the role, you met with Marines at Camp Pendleton. What did you most take away from that experience?
Zac Efron:
Coming into that first talk with the Marines, it goes unsaid, but in the room there's a palpable -- I mean we'll never truly understand what it was like. I think that everyone in the room is aware of that, but at the same time after a couple of hours with them, Scott (Hicks, director) was able to communicate just how much we cared, and that we wanted to have the most accurate portrayal. It took a while, but finally they opened up and saw that really the more honest they were, the more that they could give us. That's what we really cherished. We wanted so hard to be able to give an accurate portrayal. Watching them open up and sort of blossom in front of our eyes, and being able to tell these stories, recount, it was the most powerful moment. It was on the first day. I mean that was the first day that we had hung out at all. That was the biggest part I think.
Movie Fanatic:
Were there things you noticed about them without a word being said?
Zac Efron:
At first I walked into the room full of Marines and these guys stand like -- striking physical differences. A lot of them were my height, my build, but they looked like superheroes. In my eyes at least, I was looking at real life heroes. I'm a musical theater geek walking in there, and I knew there was so much work to be done. It was overwhelming at that point. I was just like, "How am I going to do this?" But, every time I get really scared like that, it's a sign that I'm on the right track.
Movie Fanatic:
Because you were playing a Marine, fictional yes -- but it must feel so real for soldiers witnessing
The Lucky One
-- did you feel any pressure?
Zac Efron:
I feel pressure with everything. That's why I love what we do. Everything is heightened and makes your spine tingle. That's why I was scared when I read the script for
The Lucky One
, because I was like, "Dude, I like this. It's going to be real hard, and you have a big chance to fail here." 
Movie Fanatic:
You seriously buffed up for the movie. Did you train like a Marine?
Zac Efron:
I did all kinds of stuff. But the first thing I wanted was to just spend as much time around the Marines and the troops as possible. Physically there was a lot to be done. [
Laughs
] Yes, that was the hardest part about this was the physical transformation.
Movie Fanatic:
Do you carry any lessons learned from that meeting with you through life?
Zac Efron:
I mean the principles I learned absolutely. I carry them with me, and I still try to apply them on a lot less vigorous agenda.
Movie Fanatic:
In the film, as it is a Nicholas Sparks book, there are some seriously romantic lines. Some may say that although they may aspire to, most people don't talk like that.
Zac Efron:
There's a cynical part of you. The red flags go off with just a couple of lines for me anyway. But then I think back to moments when I've been in [love] and I've said things way crazier than that. It's all relative. There was a little bit of shiver when I realized I was going to do that on camera, but I think a little bit of pride too, you know?
Movie Fanatic: Your career evolution has been so organic appearing. Do you have a set-in-stone plan for how you want it to go?

Zac Efron: It's been incredibly fun and educational. I set out very early on. I look back and I said I was going to do this ages ago, and I was young. I didn't know what I was getting myself into. I think that it's proven to be everything I dreamed it would be. It's been great, but it's very different. If you would've asked me when I was auditioning for High School Musical if I was ever going to play a Marine...

Movie Fanatic: What do you think is the secret to Sparks' success?

Zac Efron: Nick creates such grounded characters. Everything is set completely and totally in reality. I mean it's heightened, but all for a purpose.