The male central characters in Nicholas Sparks' books that make it to the big screen have a certain self-awareness, yet they are aloof to the love capturing their world. They have swagger, yet stammer. In The Lucky One, Zac Efron is a Marine who, after an Iraqi firefight, finds himself surviving to witness the arrival of daylight. A reflecting light in the sand catches his eye and he walks towards it. After picking it up, an explosion is set off -- exactly where he was standing previously. He thinks that the girl in the photo must be an angel.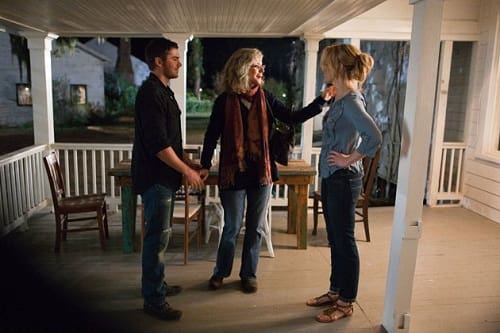 Upon returning home, Efron's Logan sets out to thank her. His family cannot relate to what he's going through. He probably has PTSD, but doesn't seem willing to deal with it. The only thing he wants to do is find the woman in the picture. He matches the lighthouse in the background to one in Louisiana and he walks there with his dog Zeus, camping along the way until he can meet his guardian.
As anyone who has seen any of
The Lucky One's trailers
knows, he finds her and winds up working with her at her grandmother's (Blythe Danner) dog care facility.
When it comes to breaking out of his
musical-comedy persona, Efron has taken a good role in
The Lucky One
. His soldier feels true. Where his previous
Charlie St. Cloud
was murky in message, having Sparks' prose as your story's spine is clearly a leap in protagonist progress.
Director Scott Hicks and screenwriter Will Fetters converge well with their portrayal of the Southern lifestyle. There's a tad of local politics, flair and feel that adds weight to the story.
Taylor Schilling is Beth, the woman whom Efron has his sights set on. She proves to be a promising up-and-coming actress and is also a good fit opposite Efron. Showing audiences why she is a legend is Danner as Beth's grandmother. The actress is as good as ever and, frankly, there is nothing we wouldn't see her in.

The Lucky One is a classic Sparks film. Those who adore his work will find this film lining up right below The Notebook. It is the author's best page-to-screen effort in years. For audiences who are blindingly romantic, Hicks has created a gem.