The Raven scores with its premise. Edgar Allan Poe has had the greatest successes of his career. Now, he writes criticism for the Baltimore paper. When a serial killer strikes using his murderous stories as inspiration, the author could be no better of a choice to aid an investigation into finding the psychopath. John Cusack is Poe and it is clear the star is an appreciator of the writer's work.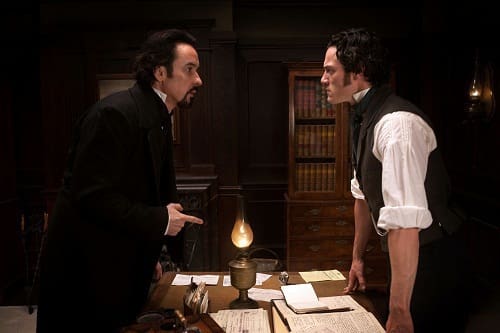 Cusack is Poe in every sense. He is prone to egotistical-driven rants at various foes who are not up for the verbal challenge. It is pure Cusack. The actor melts into the role and seems to relish in the challenge of the performance. The killer is outsmarting the great and gloriously gifted Poe, using his own words against him. The actor's knowledge of his character's true life past is present throughout. And he uses it ever so slightly as the film itself is tightening its grip on the audience.
The supporting cast shines, especially Luke Evans and Alice Eve. The latter is Poe's love interest, to the disgust of her wealthy father (Brendan Gleeson). The former is the detective charged by the mayor to bring in the madman before he strikes again. Both Eve and Evans are on a career uptick with several high profile roles coming soon. Eve is due to be seen in
Dark Shadows
while Luke Evans is currently filming
The Hobbit
. Each shows in this very dark tale that there are elements of light. One is through the Eve character (Emily) and her pure adoration of Cusack's Poe. Evans, meanwhile, brings a quiet yet explosive tension to his role as Detective Emmett Fields.
James McTeigue (V for Vendetta) directs from a script by Ben Livingston and Hannah Shakespeare. It is a different type of suspense. I expected to have gasps and awes around every turn. The Raven is not that type of movie. Yet, it did compel. It works as a simmering story that is only heating further as time ticks. Some may feel that it takes too long to pay off in the suspense department. Those who appreciate thrillers that take time to hit the boiling point will not be disappointed.

Fans of Poe should be able to appreciate the story as well. If Abraham Lincoln can become a Vampire Hunter, then surely the man who crafted poetic macabre can catch a killer.