When discussing The Three Stooges movie from the Farrelly brothers, one has to begin with the brilliant work of Sean Hayes, Will Sasso and Chris Diamantopoulos as Larry, Curly and Moe. It is almost impossible to capture an icon, much less three, and the trio of actors headlining our 21st century rebirth of the brothers Stooge have not only paid respects to the legends, but continue their legacy.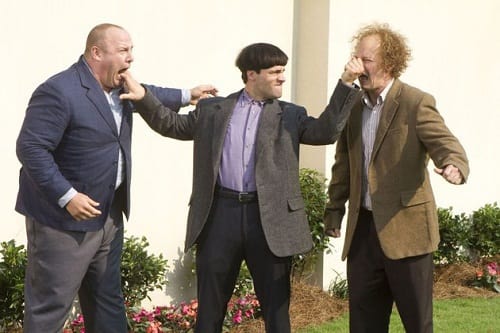 After having the three leads nailing their part of the film, who helms the project has to be perfect, given the subject matter and its place in comedy and Hollywood history. The Farrelly brothers could not have been a better choice. One can almost imagine the sibling pair working with the three Depression-era performers and being on the same page when it comes to the science of delivering the funny, minus of course the modern push-the-envelope method of humor the brothers are known for.
Children have always adored the Stooges, and the 20th Century Fox film is no different. At our screening, there were quite a few laugh-out-loud moments that frankly surprised us, but the younger tones of laughter were emitted machine gun-like throughout.
The story of this film takes a few liberties with the Stooges' story that some purists may have issues with, but like the old serials, it is told in three parts -- each about 30 minutes long.
The first finds our tawdry threesome arriving as mere infants on the doorstep of a Catholic orphanage. They soon hit the terrible twos that seem to last well into adulthood. The story, when it comes to
The Three Stooges
, is almost irrelevant. It's all about two things: The bits and the bond that binds these three.
When it comes to the bits, the Stooges 2012 carry on the spirit of the originals. All three actors not only know their way around a laugh, but also possess keen insight into the public persona of the characters they are portraying. Second, the kinship that the original stars channeled that drew a nation into their web of wickedly physical humor is still present. Despite slapping and eye-poking each other all day long, they are able to forgive and forget, and snore away the night together when the day is done.

The supporting cast is mostly up to the challenge. Jane Lynch is her usual awesome self while Larry David shocks us with his self-deprecating humor as a nun. Yes… a nun! Unfortunately the overall story of The Three Stooges lets us down… just a wee bit. But an enormous amount of respect has to go out to all those involved for even tackling the challenge of bringing a unique America-of-a-different era enigma to the world of today.