The Three Stooges are back and judging by its second place finish behind the monolith that is The Hunger Games, audiences were thrilled. Larry, Curly and Moe are brought into the 21st century by filmmakers the Farrelly brothers and as they did back in the day, the comic trio gives us plenty of hysterical and quotable lines.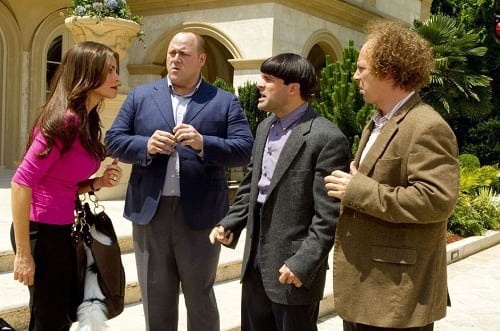 Try not to get hurt and, as the Stooges always say, don't try their form of physical humor at home. But, what you can do is learn some instant classic lines with our best of
The Three Stooges quotes
.
Moe:
He's got a headache. [
To Larry
]
Larry:
No I don't!
Moe:
[
Bangs Larry in the head with a hammer
] How 'bout now?
Larry:
Yeah, it's comin' on. |
permalink
Curly:
Uh-oh, he's snuffocatin'!
Larry:
Don't worry, I know the Heineken maneuver! |
permalink
Moe:
[
After a nun is hit with a giant church bell falling off a roof
] Do you know that nun?
Curly:
No, but the face rings a bell. |
permalink
Lydia:
Those three idiots crashed the party!
Mac:
Who? The Kardashian girls? |
permalink
Curly:
Who's the tall guy in the fancy suit and top hat?
Ling:
Oh, that's a snowman.
Larry:
Yeah... But what's his name? |
permalink
Larry:
You'll have to pay me to see this garbage! |
permalink
Moe:
Mind your P's and Q's!
Curly:
Don't forget to dot the I's! |
permalink
Moe:
Everybody ready for a good time? |
permalink