Steve Harvey struck a nerve with his book Act Like a Lady, Think Like a Man. The book became a sensation. The page-to-screen effort debuts with the moniker Think Like a Man. With a stellar cast and the book's author framing the film with themes from the book throughout, it achieves a first in the process: It succeeds.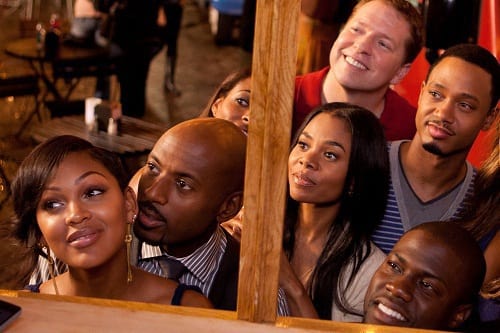 Like
He's Just Not That Into You
,
Think Like a Man
has an encyclopedia of, according to readers, proven-to-be-effective theories on romance. The former film intertwined friendships and love in an overall seemingly unconnected plot and characterizations. The latter scores by possessing a compelling and humorous plot with a cast of Los Angeles-based characters who feel real.
Keith Merryman and David A. Newman's script pops around every corner. Movie Fanatic appreciated the film's ability to hit the right beats when it came to expertly crafted conversation, humor and romance.
The acting ensemble seems to live by the edict of that whole weakest link thing. Each performer after the other is on their A-game. Standouts are Taraji P. Henson as a wildly successful executive looking for the same in a man. She plays her terse and tenacious. Yet, she slowly oozes into her soft and vulnerable side and audiences are treated to a true talent's lesson-in-acting arc.
Also stealing scenes left and right is Kevin Hart. He represents the guys (or gals, frankly) who think that the grass is greener on the other side in the sense that he's married, yet feels his single friends have all the fun. When he winds up close to a divorce, the comic actor sends in his after-burner of talent and rides the lightning between comedy explosions and quiet moments of despair… both equally as hilarious.
It is difficult to single out more performances in this ensemble that finds Michael Ealy, Jerry Ferrara,
Gabrielle Union, Meagan Good, Regina Hall
, Terrence Jenkins and Romany Malco each nailing characterizations.
That is what sets Think Like a Man apart from not only self-help books turned into films, but it stands above the average muck that is out there in the romantic comedy genre. There are so many comic and compelling storylines intertwined through the film by actors who are chewing up a great script and have been inspired by their director Tim Story (Barbershop, Fantastic Four).

It's probably best that Story's film did not arrive on Valentine's Day, although it must have been tempting for Screen Gems. This film is an escape from the day-to-day in its illustration of the fun aspects of the battle of the sexes, yet it also can provoke conversation that will make any relationship grow. Hard to find that in a film these days… must have come from a self-help book. Imagine that.