Having a music legend, Paul McCartney, provide the score and a screen icon, Meryl Streep, lend her voice as narrator and To the Arctic already is a winner. Yet the subject matter is what is the most compelling aspect of this nature doc. The wildlife at the center of the movie will rock your world and do so much more, like steal your heart.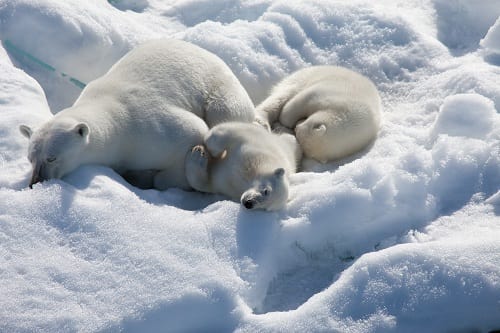 The filmmaking team of Greg MacGillvray and Stephen Judson have created a love letter to one of the most unexplored parts of the earth. What will pull at your soul is how the melting of the Arctic glaciers are causing serious problems for the residents of this icy community. The crux of the film follows polar bears, although other wildlife is chronicled. They are all coping as well as they can to the changing environment, but it is making survival extremely challenging.
The storyline of the female polar bear and her two seven-month-old cubs is the big selling point here. Watching mom do her best to feed and protect her cubs is inspiring. Witnessing her do it with all the cards stacked against her with food more scarce, predators possessing a stronger sense of urgency, and knowing that this is all due to humankind's greenhouse gases can be devastating to watch. But,
To the Arctic
has a message of hope that it is not too late to reverse the trend and it is something that every single individual on the planet can do… right now.
That has to be the biggest thing I took away from the screening -- the motivation to do something… anything. This ecosystem is as important to the planet's survival as air is for us to breathe. After experiencing
To the Arctic
, it is easy to wonder why the nations of the earth are not launching a campaign akin to the effort to topple Hitler in World War II to make the changes necessary to ensure the Arctic's survival.
And yes, McCartney's music is as perfect a fit as could be asked. The angelic choral singing of Maybe I'm Amazed alone at the end of the picture is emotionally powerful. With Streep and her motherly vocal talents providing the narration, the message of the film could not be brought home any more personally and effectively.

To the Arctic is not only a must-see this Earth Day for families, but for every soul on the planet.