As we announced last week that there would be a sequel to Twins, tentatively called Triplets, there was an outcry of "why?" Yesterday, we announced Peter Farrelly was going forward with Dumb and Dumber 2 starring Jim Carrey and Jeff Daniels. The jury's still out on that news, but it did get Movie Fanatic thinking: What are the Top 10 Unnecessary Sequels?

10. Indiana Jones and the Kingdom of the Crystal Skull
Oh, did we want to simply adore this film -- George Lucas and Steven Spielberg back together working on the franchise they created together. The fourth film introduced Indy's son (Shia LaBeouf) and we thought it would be a welcome return visit. Instead, it was a complete mess.

9. Ocean's 12
OK, we would not have the outstanding Ocean's 13 without Ocean's 12. But that being said, the sequel to Ocean's 11 missed all the humor and heart that the first film possessed. Somewhere along the way, they lost their way. Thank goodness they returned to form with the third film in the series.

8. Teen Wolf Too
This one should go without saying. Although we adore Jason Bateman, it was a no-win proposition for him to step into the wolfy shoes of pop culture icon Michael J. Fox.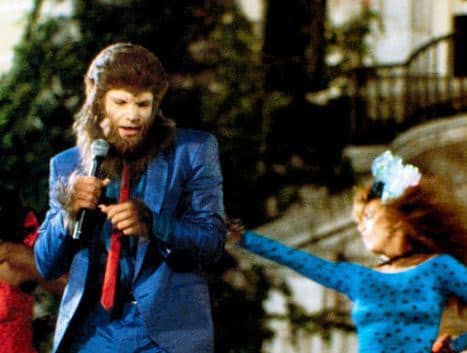 7. Grease 2
Really? You're going to try to make a sequel to one of the great movie musicals of all time that featured a pop culture legend-making performance by Olivia Newton-John and John Travolta? Even with Michelle Pfeiffer, this one is a fail.
6. Jaws 3D and Jaws: The Revenge
Jaws
put Steven Spielberg (What are his
top 10 movies
?) firmly on the map.
Jaws 2
wasn't terrible and was nowhere near awful. Yet, the third and fourth
Jaws
films are simply unwatchable. Period.
5. The Next Karate Kid
Hilary Swank gets her big break. That is about the only good thing we have to say about this next chapter in the
Karate Kid
series that still starred Pat Morita. Ralph Macchio had enough sense to get off of this train before it hit the expiration date. Morita was not so lucky.
4. Speed 2: Cruise Control
Keanu Reeves has made some less than interesting moves in his career that still has more wins than losses. But, his most brilliant move of all was avoiding a sequel to the blockbuster
Speed
. Sandra Bullock wasn't so fortunate as she headed out on the water for a little
Cruise Control
with Jason Patric. To paraphrase Bruce Willis' John McClane (a sequel to note worked magically in
Die Hard 2
), "How can the same thing happen to the same guy twice?" When it comes to
Speed 2
… it shouldn't have.
3. Son of the Mask
Jamie Kennedy, you are no Jim Carrey. And Taylor Howard, you are no Cameron Diaz. Not only is
Son of the Mask
a terrible sequel, it is simply a stinker of a movie. Please let us know if you can find one merit to this sequel that shouldn't have ever been made.
2. American Psycho 2
Mila Kunis wants a job so badly with William Shatner that she kills all her competition. Yeah, that sounds like it's in the same smart-as-nails vein as the original
American Psycho
with Christian Bale in a career-making performance.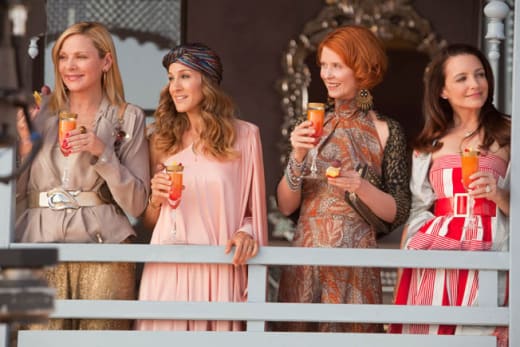 1. Sex and the City 2
The queens of the bad sequels are honestly not who we would have expected to take the top spot on our top 10 of unnecessary sequels. The
Sex and the City
franchise is a stellar example of how to bring a successful TV show to the big screen and become a blockbuster.
Sex and the City 2
, on the other hand, is a lesson in how to not approach a sequel. The operative word in the movie and television series is "City." Why on earth did you send our fab four ladies to the Middle East? Shame on you.