The Avengers broke box office records this past weekend with its astounding $207.1 million in three days. It smashed the previous best weekend opening record of $170 million, set by Harry Potter and the Deathly Hallows Part 2. We here in Hollywood knew the Marvel Studios film would rock, but we had no idea it would rock so much! Why?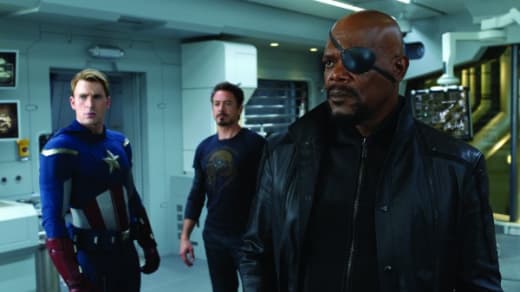 5. Fantastic Reviews
The critic reaction to
The Avengers
(including
our review
) was almost universally positive. Rotten Tomatoes had it "certified fresh" with an astonishing 93-percent. Now, if the critics adore something that the wider public will most likely enjoy, that adds up to a blockbuster. But a $207.1 million opening weekend blockbuster? There was much more to it. Specifically…
4. Cinemascore
Audiences chime in with exit polls taken of them when they leave the theater.
The Avengers
scored the rarest grade of A+, which means every person polled believed that Joss Whedon's film was the absolute best of the best. And that gives us…
3. Word of Mouth
Audience members read the critics' reviews, then if they too hear from fellow viewers (i.e. Cinemascore and friends who have also seen it) that the film is a don't miss, then that puts more people in the seats. With ticket prices being so high, people are less willing to plop down their hard-earned dollar for something that may be a niche film.
The Avengers
could have been a niche film, what with its superhero-centered storyline. But, it managed to grab wide appeal through the universal themes it presented of fighting for freedom, answering one's calling and how when we work together, there is nothing we cannot achieve.
2. Bandwagon
The term "Bandwagon" is usually used to describe an advertising method. The "come on, everybody's doing it" mentality is immensely powerful when hawking a product. In the case of
The Avengers
, bandwagon was a key to its success in people not wanting to be left out of the popular culture discussion of the day. With the film dominating the news cycles over the weekend, millions turned out to see the film so if nothing else, they could join in the conversation around the proverbial water cooler come Monday morning.
1. Marvel Studios' Patience and Joss Whedon's Hiring
Marvel Studio head Kevin Feige has had the utmost of patience with the players in his Avengers wheelhouse. By first rolling out two Hulk movies, two Iron Man films, Captain America and Thor last summer… slowly but surely he has built a fan base that would turn out for a film featuring all of them. Yet, fan passion can only take you so far -- certainly not to the extent that The Avengers scored in its first weekend. The first half of our final argument why the film scored so high is that patience, but the second part has to do with the studio's hiring of director Joss Whedon to write and helm the project. No other filmmaker could have managed to get so many ensemble pieces into one film so congruently without sacrificing action, drama and character development. Toss in the fact that Whedon wrote his film for a fan crazy audience, yet also for those moviegoers who had never before seen a Marvel film, and it's appeal was beyond universal.