Ever since Will Ferrell came out in character as Ron Burgundy on Conan to announce that Anchor Man 2 is a go, fans have been hoping to catch any info they can on the sequel of the 2004 comedy.
Well, a tweet by Adam McKay, director and co-writer of both the original and the sequel, hints that there may be a short Anchorman 2 teaser before screenings of The Dictator, which comes out next week.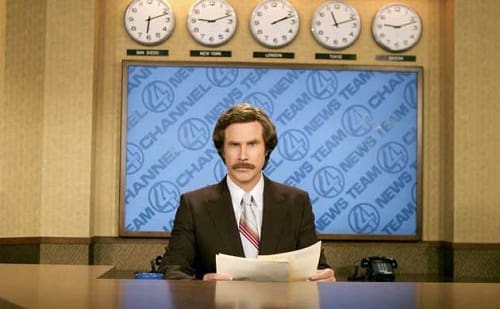 Rumors circulating on the internet suggest that the teaser will feature some of your favorite Anchorman cast members talking, in character, about how excited they are for the new film. A release year of 2013 is also rumored.
Will Ferrell, who co-wrote the original and is co-writing the sequel, can be seen this summer alongside Zach Galifianakis (maybe Galifianakis will make an appearance in Anchorman 2?) in The Campaign. Watch the first Campaign trailer, which just came out this morning, for a closer look.
McKay has previously hinted that the plot of Anchorman 2 will involve a custody battle, but apart from that, not much is known about the film that as of last month was still being written.
Let's hear your predictions for what'll go down in the Anchorman sequel.