Let's start by saying that no one goes to see Battleship expecting anything more than a summer popcorn movie with all the trimmings. In that manner, does it succeed? Why, yes it does. There are structural problems with the film for sure, but director Peter Berg has officially joined the legion of summer blockbuster directors with his latest effort. The film even scores with some extremely clever means that ties itself back to the Hasbro board game that it is based upon.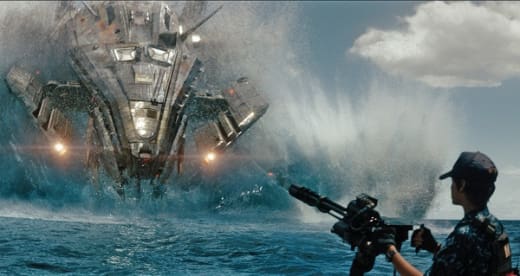 Battleship
begins in the most stereotypical of means. You know, J.J. Abrams'
Star Trek
began the same way. Our hero (here it's
Taylor Kitsch
) is not living up to his potential. After a series of screw-ups, he must find a way to be a real man and frankly… an adult. His brother, Navy officer Peter Sarsgaard, has had enough and implores his sibling to join him in the service.
Flash forward a few years and our hero has done great by his brother, and his country for that matter. He is succeeding in the Navy, and is even dating an Admiral's (
Liam Neeson
) daughter (Brooklyn Decker). He's trying to find the right way to ask the man for his daughter's hand in marriage… when mayhem rears its head one more time and our hero disappoints (again).
Before we can delve into the budding family dynamic, disaster strikes -- aliens invade.
It seems NASA found a planet much like ours in the distant reaches of space. We sent a signal from a satellite facility in Hawaii to the unexplored region, hoping to make contact. Not only did it succeed, but now "they" are coming to, as one character puts it: To be like Columbus, where this time we're the Native Americans.
Battleship may sound and at times look like
Transformers
, but that is about all it shares with the Michael Bay blockbusters. This is an entirely different animal. For one, it's a tad smarter. Since Berg's film is based on a game, and not simply a toy, the filmmaker needed to utilize some sort of strategy that recalls the iconic game. Midway through the film, there is a sequence that is dazzling in its suspense and achieves the cleverest of ties to the game by utilizing tsunami buoys in the Hawaii harbor. There is never the quintessential "You sunk my battleship." But, there is plenty of blind waiting and extolling of "hit" and "miss."
The movie is pure popcorn flair. And much like the movie theater treat, it can be easily forgotten once exiting the theater. But, while you're in it,
Battleship
is quite fun in its use of action and suspense. There are several plot points that outright borrow from other films, but in the scope of Berg's story, we can forgive those cinematic repeats… at least while enjoying the film.
Berg's cast is completely underused. But, in a blockbuster Transformers-type film, audiences aren't flocking to see acting chops on display. Kitsch is perfectly cast as our hero and handles the spotlight of headlining a summer movie with ease. Neeson is wasted and -- we hate to say it as we adore the actor's work -- seems to be phoning it in. The surprise here is Rihanna, who takes her second stab at film work (after a Bring it On sequel) to show that she has a future on the silver screen.

Battleship is predictable and hokey, yet with solid alien character design and an incredible use of sound effects, it serves its purpose and will likely garner a sequel. Oh yes, you want to stay past the final credits as Berg hints at what is to come if his hopes of Battleship becoming a franchise are realized. Given its huge overseas gross already, it is a pretty safe bet that those behind the movie are already exclaiming, "Hit!"