Director John Madden (The Debt, Shakespeare in Love) is visiting Movie Fanatic for an exclusive interview about his latest film, the charming The Best Exotic Marigold Hotel. The helmer has quite a cast that went to India to film a heartwarming, terrific and comedic look at growing older. Along for the ride are Judi Dench, Maggie Smith, Bill Nighy, Tom Wilkinson and Dev Patel.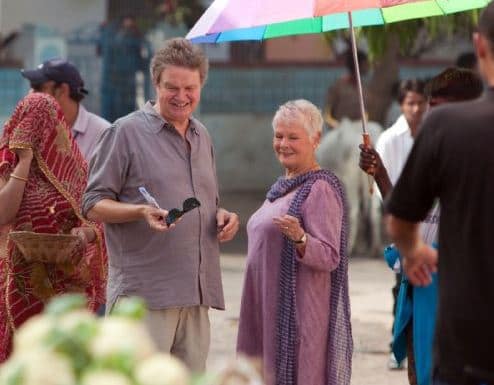 When sitting with the man who has directed Dames Helen Mirren in
The Debt
, plus Dench and Smith in his new flick, we wondered what it is about British actresses (and actors) that are so bloody brilliant they get a royal title and complete adoration from the world's audiences.
"The simple answer is that they get to do so many different kinds of things. They earn their chops on the stage. I'm afraid it's a bias of mine -- generally speaking -- anybody who will jump into that particular arena, that's the real thing. You can't fake anything there. There are no tricks. It's training unlike no other. British actors are lucky because most of the industry is centered on London. If you're working there, then you can work in television, film, radio and stage. All of these people do --
Bill Nighy
does radio plays all the time. Judi does television, less so now because she splits her time between film and stage. These people are Dames because of their stage work, not because of their film work," Madden said.
Madden believes that the Dame title doesn't necessarily belong simply to UK actresses or thespians of a certain age. "God knows the international community has plenty of actresses, I think, who will wind up being exactly like that.
Jessica Chastain
will belong in that company. Cate Blanchett, Nicole Kidman and Gwyneth Paltrow… all of them belong there. It's not unique. It's just that theater is a great breeding ground in England. And when it came to potential actors for
The Best Exotic Marigold Hotel
, I had a rich pool."
Based on the novel
These Foolish Things
by Deborah Moggach, Madden chose the work as his next project because of a gaping hole in the movie industry for this type of story.
"It seems very interesting to me the idea of looking at the experience of growing old. It is something that mainstream cinema likes to avert its gaze from, actually society as a whole -- everyone's in ferocious denial about it," Madden said. "Although you encounter these types of subjects, they usually have the old person at the center who is the difficult person, the funny or cute person. But to take a film that actually deals with that experience centrally, and particularly one that allowed a comedy to be part of the mix, seemed very attractive."
His pull to the project was actually twofold and went beyond the subject to the locale where he would be wielding his camera. "The other part… is India. The story in collision with the India landscape seemed like a very rich premise to me. You get away from cliched assumptions," Madden said.

The story follows a group of Britons of a certain age, who for whatever reason, find themselves heading to India to stay at the titular hotel. They all believe that the area holds the secret to the next and perhaps final chapter of their lives -- even with the difficulty of adjusting to a completely foreign culture. "These people are stripped bare of everything that might have defined their lives. They're left to sink or swim in a very unfamiliar environment. The rules are all upside down. I thought that was really interesting and provocative. It was liberating to film."

Although he had wanted to film in India for some time, Madden wasn't quite prepared for the challenges filming on location brought. "The country is completely mad in many ways and wonderful and hilariously contradictory. The bureaucracy is one thing you have to negotiate. They don't take any prisoners," Madden recalled.

He even shares a story exclusively that relates to the biggest movie of the summer and how his crew could have contributed, but due to Indian regulations, it never happened.

"After we filmed, some of my crew went on to do a week's worth on The Dark Knight Rises, filming six days of aerial work in Jodhpur in India. To my astonishment, the helicopter sat on the ground. They never got in the air," he said and laughed.

"The permissions never came through. If Batman can't get a film made in India that tells you how difficult it can be [laughs]. They don't budge for anybody."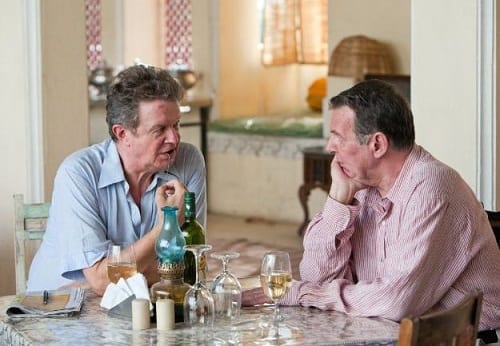 There was also another facet of Indian culture that presented itself immediately to the Oscar-nominated filmmaker. With the deluge of people everywhere, it seems there is no shortage of individuals who simply gaze at the world going by, especially a foreign film crew!
"There's also a much more benign challenge which has to do with the curiosity of the people and the fact that everybody stops to watch what you're doing -- which makes control almost impossible. I found ways of working around that. I was determined that feed into the film -- to get India at the center of the experience. We didn't clear streets. Actually if you look carefully at the film in almost every shot," Madden said and laughed, "you can see people watching. In the end, I just couldn't worry about it! There are always people in India sitting, watching… which I love about the place. That was difficult, but mainly funny."