Oren Peli is certainly a master of the found-footage genre. His Paranormal Activity set off a Hollywood trend that doesn't show any sign of slowing with the box office success of films such as Chronicle and Project X. What he has achieved with his latest production, Chernobyl Diaries, will surprise. Even though the film commences with a found-footage means of introducing characters, it quickly shifts to a traditional narrative that -- believe it or not -- still possesses that "you are there" feeling of the wildly popular subgenre of filmmaking.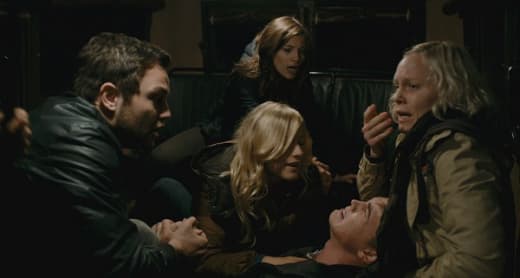 That is a good thing when it comes to telling the tale of a group of extreme tourists visiting the site of the Ukrainian nuclear disaster. By having the audience feel as if they are a seventh participant in the scary jaunt, the viewer feels every jolt to their system as if it were our own.
Jesse McCartney and Jonathan Sadowski portray brothers Paul and Chris. The latter is bringing his soon-to-be fiance Natalie (Olivia Dudley) and her BFF (Devin Kelley) to visit Paul in Kiev where he has been living. The group is supposed to head to Moscow to continue their European vacation when Paul meets Uri, the owner of an extreme tourism company that promises the once-in-a-lifetime experience of visiting a large city that is now desolate. Yes, we're talking about Chernobyl. The group becomes convinced this is a good idea (in typical horror movie fashion, the audience already knows it isn't). They hook up with a European couple also down for the adventure and off they go in Uri's van.
The story of the Chernobyl disaster is well chronicled. What we do not see much of anymore is the aftermath and how nature has taken back the radioactive locale where people once ruled. As our group arrives, the silence is deafening and the desolation truly haunting. In Peli's film (which he wrote and produced while Bradley Parker directed), it seems like it takes a little long to inject the spook into this horror story. But, when it arrives… prepare to jump out of your seat.
As seen in the
Chernobyl Diaries trailer
, after the two-hour tour, Uri's van won't start. They are stranded, darkness is beginning to fall and they discover they are not alone.
Where the film works is how it takes the simplest of premises that horror films have always used, and only spoon feeds the audiences the terror. Therefore, every turn our group takes after they are forced from their van could truly be our next scream-at-the-screen moment. You will find your head slowly moving towards the screen, eager to witness what on earth is going on and who or what is terrifying our tour group… only to snap it back against the seat as something leaps out to send shivers down your spine.

Chernobyl Diaries does have its problems. But, most horror movies are far from perfect. That's not why we go to them. If a film can give us a few jolts of fear, characters we care about that we want to see get out of danger and close the movie in a manner that has us frozen in our seat trying to wrap our heads around what just happened as the credits roll, then it has done its job. Peli and his filmmaking team have achieved exactly that.