The third The Dark Knight Rises trailer arrived this a.m. and here in Los Angeles, we felt it like an earthquake. Christopher Nolan's final foray into the world of Batman crafted more power in just over two minutes than most films can pack into 90 minutes. From its opening moments, we knew we were in for a ride. "There's a storm coming," says Anne Hathaway's Catwoman. And boy is she correct.
After witnessing The Dark Knight Rises sizzle reel in Las Vegas last week, Movie Fanatic knew that the latest teaser from Nolan would dazzle. But, even we were blown away by this two minutes of mastery.

The bad guy in the film, as we all know, is Bane. According to the character who appears thus far to be the voice of reason, Catwoman, "You should be as afraid of him as I am." As mentally morose and violently psychotic as the Joker was in The Dark Knight, it appears Bane is more brash, buff and bodaciously ready to destroy Gotham. The images of the bridges exploding in the trailer are just as awe-inspiring as they were in the CinemaCon sizzle reel. There seems to be a revolution starting, with the madman at the helm.

What also struck us is how, even though the Joker was a formidable enemy, it seems Christian Bale's Batman has met his match with Bane. Battered and bruised, Alfred (Michael Caine) tells him, "I won't bury you. I've buried enough members of the Wayne family."

In a battle to regain control over the city he once protected, The Dark Knight Rises is a hero gets knocked down and gets back up story. And who doesn't love that? This segment of the new trailer captures Batman's sentiment towards that fact. 

Catwoman: You don't owe these people anymore, you've given them everything.
Batman: Not everything. Not yet.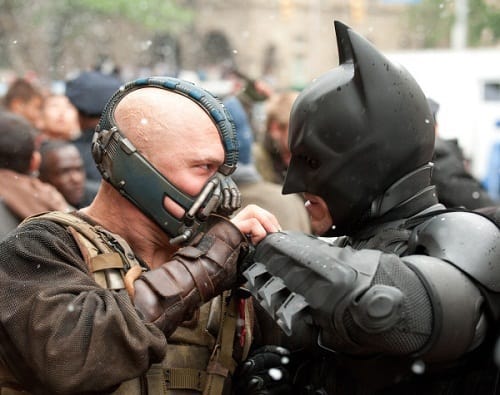 The teaser also calls the film an "epic conclusion." From these initial images, we finally believe that a film series has an epic conclusion that actually feels epic. As Batman swings back into action, this time with Catwoman as his ally, Hathaway says, "My mother warned me about getting into strange cars with men." To which Bale in classic Batman form says, "This is not a car."
Glad to see there's also a lining of humor in Nolan's final film of his trilogy. If we were excited to witness the last chapter of the
Dark Knight
series before the latest trailer landed, now we are bouncing-off-the-walls ecstatic.