Johnny Depp found it quite easy to slither into the character of vampire Barnabas Collins. He, and Dark Shadows director Tim Burton (what is your favorite movie of theirs?), were big fans of the cult TV show from when they were kids. "I've known Barnabas since I was wee big," Depp said.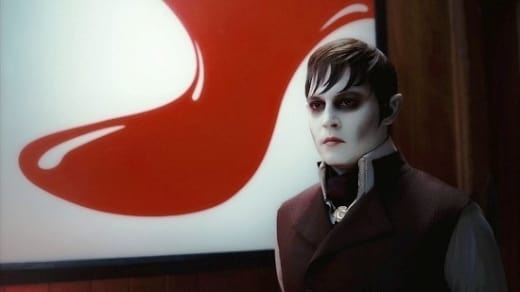 The star, who some could argue is the biggest in the world right now, sat down and spoke to Movie Fanatic this past weekend about the making of
Dark Shadows
, what it is we as a society adore about vampires and shares a funny story about those wicked nails he had to wear as he embodied a two-centuries-old vampire.
Movie Fanatic:
How much did it mean to you to have
Tim Burton
bring the original show's cast to the set?  
Johnny Depp:
It was great! It was great of Tim to bring them into the fold. It was our way of saluting them, and Jonathan (Frid, original Barnabas Collins) was terrific. He had written me a letter, a couple of years before, and signed a photograph to me, passing the baton of Barnabas, which I thought was very sweet.
Movie Fanatic:
Those nails you sport as part of your costume had me feeling sorry for you... 
Johnny Depp:
There are many more reasons to feel sorry for me [
laughs
]. We can go through them now, or we can just cuddle after. In every film that I've been lucky enough to do with Tim, there's always some form of torture. The nails were Tim's idea. They were the length of the fingers. But, it was okay because I had a group of people who would help me go to the bathroom. They had to have treatment afterwards, but they're okay now.
Movie Fanatic:
You're also a producer on
Dark Shadows
. What did you want to bring to the film in that role?  
Johnny Depp:
It's impossible to consider myself a producer. I can barely produce an English muffin in the morning [
laughs
]. Our initial conversation about the thing was during
Sweeney Todd
. I just blurted out, in mid-conversation, "God, we should do a vampire movie together, where you have a vampire that looks like a vampire."
Dark Shadows
was looming on the periphery, and then Tim and I started talking about it. When we got together, Tim and I started figuring out how it should be shaped.  
Movie Fanatic:
What do you think is the secret to being Barnabas Collins? 
Johnny Depp:
The idea of this very elegant, upper-echelon, well-schooled gentleman, who was cursed in the 18th century and is brought back to the most surreal era of our time -- the 1970s! How he would react to things and how radically different things were -- not just with regard to technology and automobiles -- but actual items of enjoyment for people, like pet rocks, fake flowers, plastic fruit, troll dolls, lava lamps and macramé owls. Those were my favorite, the macramé owls!
Movie Fanatic:
Why as a society are we obsessed with vampires?  
Johnny Depp:
There's this darkness, this mystery, this intrigue. And then, as you get older, you recognize the erotic nature of the vampire and the idea of the undead. What was most interesting, in terms of Barnabas, was the combination. It was a real challenge to make that vampire, who is clearly a vampire, fit back into this odd society and this dysfunctional family. Tim did it rather seamlessly.
Movie Fanatic: As a vampire, you do quite a bit of biting. Is that a little awkward? 

Johnny Depp: I felt as though I was biting one of the Village People. When I had the fangs in, I wanted to be a little bit careful that I didn't actually pierce the jugular [laughs].

Movie Fanatic: We spoke about meeting Jonathan Frid, how much of his performance did you embody and what else informed your characterization of Barnabas?
 
Johnny Depp: Even in the early days of trying to explore the possibilities of the character, no matter where you went in your head, if you tried to veer away from the original Jonathan Frid character, it was apparent to both Tim and myself that it had to be rooted in Jonathan Frid's character of Barnabas. It just had to be. It was so classic. When Jonathan was playing Barnabas, there was a rigidity to him, like he had a pole up the back and this elegance that was always there. Tim and I talked early on that a vampire should look like a vampire. It was a rebellion against vampires that look like underwear models.