There's something so effortless in the work of Tim Burton and Johnny Depp. In Dark Shadows, one can sense their affinity for each other's artistry in the film's first moments. We meet Barnabas Collins (Depp), whose parents have moved to Maine from Liverpool and created a fishing dynasty in the New World.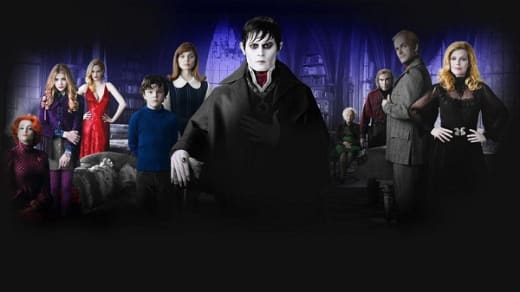 Collins is smitten with Josette DuPres (Bella Heathcote), to the utter dislike of his occasional lover Angelique Bouchard (Eva Green). Not only does the witchy Angelique put a spell on Josette that compels her to suicide, Angelique simultaneously curses Collins to a lifetime as a vampire. What's a witch to do then? How about responding to her spurred affections by whipping the town into a frenzied mob that seeks to bury Collins alive?
By having Depp's character unearthed in 1972, Burton and his lead achieve two things. First, they have the tone of the cult show that the film is based upon. Second, putting his favorite actor in a compelling fish-out-of-water situation has always worked well for Burton (
Edward Scissorhands
).
Depp's Collins returns to his family mansion and discovers what's left of his kin in the 1970s. They have allowed the family business to falter and their physical estate is in shambles.
Burton has impeccably cast
Dark Shadows
. He reunites with Michelle Pfeiffer for the first time since
Batman Returns
. Her Elizabeth Collins Stoddard is doing the best to continue a fading family legacy. Her daughter Carolyn allows up-and-coming Chloe Grace Moretz to continue her impressive rise (
Hugo
,
Hick
). Her teen would be considered weird and rebellious in any other family! It seems here though, she is the voice of reason.
Both Helena Bonham Carter (Dr. Julia Hoffman) and Jonny Lee Miller (Roger Collins) are brilliant, but grossly underused. Perhaps Carter's Dr. Hoffman and Miller's brother to Elizabeth aren't necessary to have their roles expanded in the scope of this film, but their talents are so immense, we wanted more.
If anyone steals the film from Depp and his uncanny portrait of Barnabas Collins, it's Eve. She is explosive and emotionally all over the place. She effortlessly moves from rage to adoration to seductress to cold-hearted killer.
As usual for a Burton film, the set design, make-up and costumes (by Oscar winner Colleen Atwood) are spot-on for the tone that the helmer is seeking.
The Depp-Burton tandem is such a joy to witness. To see their collective artistry join forces on a project both sought to make since they were boys watching the original show... is pure bliss.

Dark Shadows is not a perfect movie. But, it is fun, entertaining, easy on the eyes and watching Depp literally chew the scenery as a vampire makes the movie a solid continuation of what's shaping up to be a great summer movie season. With last week's kick-off by The Avengers, Dark Shadows continues Hollywood's hot streak.