Eva Mendes is a single mother in Girl in Progress and what she adored most about the story is how the film is equal parts discovery journey for Grace's teenage child as it is for her character. "I think that it's interesting that it's a coming-of-age story for both a young daughter and her mother," Mendes said. "I find that really touching."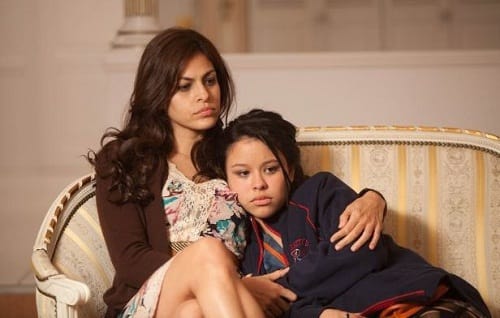 Mendes also appreciated the opportunity to flex her acting muscles and portray an individual who is emotionally all over the place. "When I read the script for
Girl in Progress
a couple of years ago, I really made a connection to the character of Grace. I thought, 'Wow, this is a really human character that is really flawed.' It's extremely difficult to find these layered roles," the actress said.
"I love Grace. I think she's really incredibly human and incredibly raw. She makes really bad decisions and we have to see her deal with that and have her deal with the repercussions of those actions. I like her because she is absolutely trying her best -- most of the time failing [
laughs
] at achieving her desired result. But, she's doing the best she can do."
Girl in Progress
takes place in Seattle and as we discover in the film's opening moments, her daughter Ansiedad (Cierra Ramirez) is giving a presentation about how every time her mother breaks up with a boyfriend, they move. The scene doesn't exactly give the sense that the daughter believes her mother is all that mature and responsible. See… there's that double coming-of-age story!
Mendes adored Ramirez and marveled at how a 13-year-old could cull such emotion, even before cameras rolled. "She's so special. She's so talented -- obviously beautiful, but she has got such access to her emotions. They were always there for her," she said. "We'd be rehearsing and she'd have tears falling, and I'd be like, 'How do you do that? That's incredible.' She's a natural."
One of the bad decisions Grace makes is to date a married man, played by Matthew Modine. "He's just this creative force and great to collaborate with," Mendes said of working with the veteran actor. She also was blown away at his ability to bring more to a performance that could have been one note. "He brought a lot of human qualities to this guy that a lot of people could have vilified him, but he played him really straight and in what I think is a very heartbreaking performance. He made it colorful."

The timing of the film could not be better. It hits theaters 48 hours before Mother's Day and Mendes believes that it will strike a chord, no matter one's relationship with their mom. "I think that having a mother myself and still having her around, thankfully, and being just an eternal 16-year-old to my mother, I felt it's such a complicated relationship," she said.

"A mother-daughter relationship is so complicated. It can be great and fulfilling and beautiful, but it's always complicated. That was our first home. That is where we come from. That is where it all happened."