Tim Burton got his start in stop-motion animation with the animated short Vincent, and has made it an integral part of his illustrious directing career with such gems as The Nightmare Before Christmas, James and the Giant Peach, and Corpse Bride. Now the director brings fans a stop-motion full-length version of the short film that helped to launch his career, Frankenweenie.
Check out the poster for the upcoming film: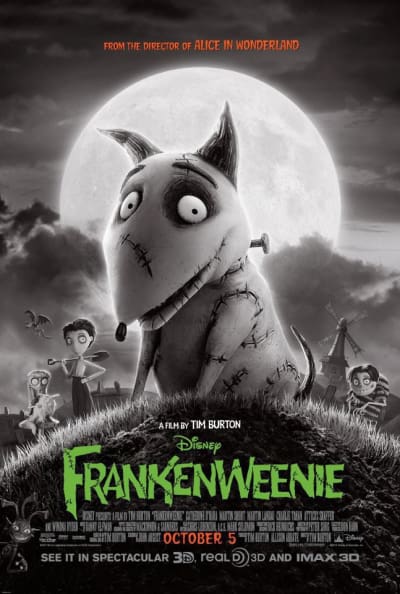 Frankenweenie stars past Burton collaborators Winona Ryder and Catherine O'Hara form Beetlejuice (here are some Beetlejuice quotes), in addition to youngster Charlie Tahan. Martins Landau and Short also star.
The film follows a young boy who brings his dog back to life through the power of science. But when the zombie dog gets loose, he begins to wreak havoc on the town. Frankenweenie is inspired by the Mary Shelley classic Frankenstein, but it is certainly not the only film to parody the ancient Golem story. The hilarious Mel Brooks film Young Frankenstein did it brilliantly in 1974. Check out some Young Frankenstein quotes for more.
We spoke a bit about the film with the director in our recent Tim Burton interview for his latest film Dark Shadows. Check out some Dark Shadows quotes, and look for Frankenweenie on the big screen in 2D, 3D, and IMAX 3D October 5.