Hysteria is as much about the birth of a female self-pleasuring device as it is about the leaps and bounds in women's healthcare that occurred in the late nineteenth century. Maggie Gyllenhaal and Hugh Dancy lead a stellar cast in a period piece film that is also equal parts comedy, history lesson, study in sociological leaps as well as simply a great piece of storytelling.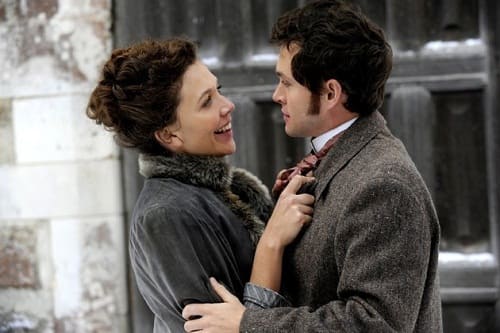 Director Tanya Wexler has weaved a web that feels like the finest of BBC productions, yet is all must-see in the cinema. The reason for that is how the film manages to engage its audience in the plot's journey. Humor is an enhanced experience with a full theater.
Hysteria
begins with Dancy's Dr. Mortimer Granville being tossed out of hospital after hospital for speaking out against what he perceives, and rightfully so, is their out-of-date methods of caring for patients. When Granville meets Dr. Robert Dalrymple (Jonathan Pryce) for a job interview, his life will never be the same.
Dalrymple runs a practice that caters exclusively to London's women. Our young doctor will clearly be in over his head!
In Hysteria, Gyllenhaal portrays Dalrymple's daughter Charlotte. She is a woman way ahead of her time. Even though she is the child of a doctor who specializes in the advancement of medicine for women, she still thinks her father's views on the rights of females are grossly outdated. Imagine her feelings towards a young doctor who thinks he has stumbled into the mentorship of a lifetime?

You're probably wondering where the invention of the vibrator fits into our Hysteria story. After some time at the clinic, ingenuity rears its head and makes history. You'll have to see it to believe it. But, how it happens allows us to extol the virtues of Rupert Everett and his best role to date. The actor revels in his part as the best-friend/financier to Granville. In a fantastically fun film, Everett is -- believe it or not -- the crème de la crème of a welcome summer cinematic surprise.