Abi Morgan has the esteemed honor of writing the screenplay that won Meryl Streep her first Oscar in 29 years. Morgan crafted The Iron Lady script and made the most interesting of choices in how to tell the story of Margaret Thatcher. The British screenwriter tells us in our exclusive interview that she chose to tell the story of her country's first and only female Prime Minister through flashbacks of an elderly woman battling dementia.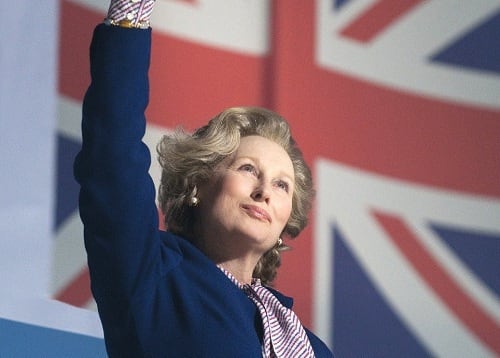 "I realized I couldn't look at Mrs. Thatcher's past without examining her present," Morgan said. "Then I read an old article on Margaret Thatcher in her later years and in it Carol Thatcher, her daughter, speaks very movingly about the moment she realized her mother's mind was deteriorating -- the notion of living with someone with dementia and them living in 'another world.' This became the inspiration for
The Iron Lady
."
There were numerous routes she could have gone and certain moments in the stateswoman's career that would have been ripe for exposition. "When I was approached by Damian Jones, the film's producer, I was offered a script, a very good script, which focused on the Falklands. However at that time, there were many different takes on Margaret Thatcher's life rapidly appearing on the TV screen in the UK," she recalled.
"We went back and forth for some months trying to find a period which hadn't already been plundered, from her relationship to Reagan to focusing on one particular political event. What I kept coming back to was where is she now and her condition."
Having her prose emitted to the world by the uncanny talent possessed by Streep was a career-best moment not lost on the screenwriter. "Casting Meryl was always in mind but when she actually agreed then it was like winning the lottery! I have watched her and admired her in so many films that she brings the breadth of that experience to the part. She is such a finely tuned brilliant actress and has such warmth and integrity as a person -- it was a very lucky break," Morgan said.
It was a difficult task writing the life of Thatcher, as the leader was equally thought of as respected and revolting by the population. Sounds like a character ripe for film!
"Margaret Thatcher is an enigma. She is, was, both reviled and revered as a Prime Minister and yet the more I examined her life the more I realized that this was an important study of power and the loss of power which is universal," Morgan said.
"She is compelling simply because of the breadth of her journey from Grantham school girl to iconic global leader. But more than that, her conviction, her certainty -- at times monstrous and at times for many brilliant -- is compelling. A certain sector of the country I am sure still longs for that certainty. Yet such conviction without consensus or regard for the views of those closest to you, is what ultimately led to her downfall."

When approaching penning the script, Morgan did not shy away from the controversies that followed Thatcher during her tenure as PM. "The critical chorus has always been strong around Thatcher," she said. The writer chose to center on something completely different. "The Iron Lady focuses less on the political and more on the challenges of being a woman in power and how that power can change one. The film is bigger than the script. It was always going to be controversial, she had a provocative career and so it was important not to ignore that."

In the end, Morgan feels her film is about much more than the life story of Margaret Thatcher. "The Iron Lady is as much about the fragility of life, any life... be it political or otherwise and that power is transitory whether one is a world leader or not."