Jennifer Lopez is back on screen in What to Expect When You're Expecting for the first time since 2010's The Back-up Plan. Lopez is simply one star in the superstar cast that includes onscreen expectant moms Cameron Diaz, Brooklyn Decker, Anna Kendrick and Elizabeth Banks. Lopez talks to Movie Fanatic about the experience of making the movie and how the mother of young twins found it hit especially close to home.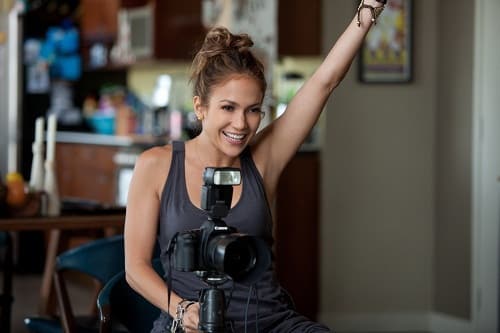 Lopez also dishes why she adores romantic comedies, and how director Kirk Jones thought she and her onscreen husband Rodrigo Santoro sold their relationship a little too much!
Movie Fanatic:
What is it about romantic comedies that you adore so much -- to watch and appear in?
Jennifer Lopez:
I'm a bit of a romantic. I don't know if you've noticed, and I am a little bit funny, maybe you haven't noticed. I think from very early on in my career I've always loved romantic comedies. I just love romantic comedies. I always have. I've been a fan. What movie would I rather watch than any other movie in the world? A romantic comedy. I love the romance. I love the comedy. It does come super natural to me. I don't know why. It's just who I am.
Movie Fanatic:
What's your favorite?
Jennifer Lopez:
When Harry Met Sally
!
Movie Fanatic:
You have impeccable chemistry with your co-star, Rodrigo Santoro. Was that present right away?
Jennifer Lopez:
Well I think I was the envy of the cast. I had Rodrigo Santoro to be my husband [
laughs
]. Right away we just felt like this couple was the couple that everyone liked to hang out with, because they get along. They really love each other. They're doing their thing and they just let it go too long -- now they really have to catch up. I think the funniest thing on set was our very English director, Kirk, kept telling us to stop. That was his direction for us, "Stop touching each other!"
Movie Fanatic:
Your character in the movie heads to Africa to adopt. What did it feel like to hold that baby in that scene? It looked magical.
Jennifer Lopez:
You fall in love instantly. It really occurred to me, "I can see how somebody can do this." It's so easy to embrace a child that has nothing. It's really a beautiful, selfless act of love. It's funny, you know, before the movie I never really thought about adoption at all.
Movie Fanatic:
With all the different looks at pregnancies, how did the movie hit home for you?
Jennifer Lopez:
It's funny, I had a C-section, but my sister gave birth six months later. We got pregnant around the same time, and she asked me to be in the delivery room with her, and I was like, "Wow!" Because I had twins it was recommended for me to have a C-section. There was a part of me that was like, "Ugh, I didn't get to do it the way that everybody else does it." When I saw my sister pushing that baby, I was like, "Well, maybe this was alright." [
Laughs
] That was an experience. I don't know all the details of what happened to me, and I don't need to.
Movie Fanatic:
The book that
What to Expect
is based on is a sensation. Did you utilize it while you were pregnant?
Jennifer Lopez:
Well, I found the book to be so incredibly accurate when I was pregnant. I just see why everybody has this book, and why it's the first thing you get when you find out that you're pregnant. It just takes you through everything. I even remember after reading the book, because I was in my bed with these twins, and I had a C-section, so I was obviously in a lot of pain, I was like, "No pain killers." I'm going crazy from the pain, and I want to hold the babies, but I can't because it hurts too much. So, I have this baby nurse helping out, and I say to Marc at the time, "The babies don't love me and they're not going to know me. They're going to love the nurse." I start crying and the whole thing and he goes, "The babies love you. Trust me. They don't even know anything yet." But, whenever I opened the book, it was like, "That's what's happening to me!" It made it so much better.
Movie Fanatic:
As we've seen in the
What to Expect When You're Expecting trailer
, the dads' group is hilarious. What did you make of that element when you read the script? 
Jennifer Lopez:
Yeah, with the dads' group I thought that was pretty genius. Dads, who are really involved dads and good dads, need other dads to kind of help them through. I thought that was a really good addition to this type of movie. That's what I kind of loved about the movie too. It wasn't just the typical what you think men would do, because that's not always what they do. Sometimes they show up.
Movie Fanatic: You didn't really get to work with the other expectant moms in the movie, did you?

Jennifer Lopez: None of us ever worked together [laughs]! I worked with Brooklyn (Decker) for a minute. But I didn't get to work with the other belly people!

Movie Fanatic: It's been a great crazy year. How does it work appearing on American Idol, filming What to Expect When You're Expecting and planning a tour?

Jennifer Lopez: It feels good. I'm a little bit tired right now. I'm not going to lie [laughs]. I just feel really in the zone: Rehearsing, doing Idol, promoting this movie. I feel really blessed.