With Kristen Wiig receiving a fond farewell on last weekend's season finale of Saturday Night Live, we thought we'd pay tribute to her shining film career by remember some of her most hilarious film quotes.
While Wiig is no stranger to feature comedy (in fact, she was responsible for one of the most talked-about comedies of our generation, Bridesmaids), her decision to leave SNL will surely help to solidify her position as a starring comedic force independent of the goofy characters she tended to play on the iconic sketch show.
Take a look at some of our favorite Kristen Wiig quotes below, and add your own faves in the comments section.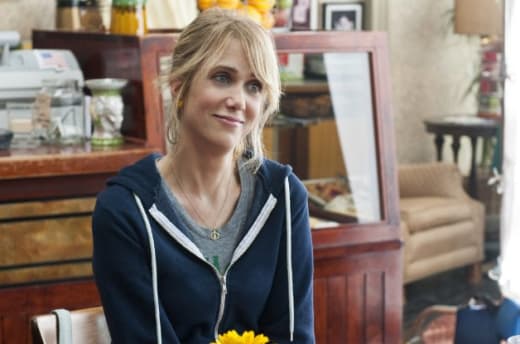 Annie: What kind of a name is 'Stove' anyway? What're you a kitchen Flight Attendant: No. My name is Steve and I'm a man
Annie: You are a flight attendant. | permalink
Woman on plane: I had a dream last night. That we went down.
Annie: Oh God.
Woman on plane: You were in it.
Annie: What? | permalink
Ruth Buggs: Well ain't that a bag of tits. | permalink
Ruth Buggs: What do you mean by that? Why do you guys hate me? Can we cook up some sausages? Ohh I have wasps in my brain! | permalink
Ruth Buggs: Sorry you got killed by my dad. | permalink
Vicki St. Elmo: I'm a virgin.
MacGruber: Not for long. | permalink
MacGruber: Don't worry, this is just like Nicaragua.
Vicki St. Elmo: I got shot in Nicaragua!
MacGruber: This is nothing like Nicaragua. | permalink
Vicki St. Elmo: If you're the one they want to come after why can't you be dressed like you?
MacGruber: Because. You are. | permalink
James Brennan: Maybe I'm not the right guy to run this game. I really... I think I should probably be on the rides department.
Bobby: Oh, no, no, no. No. You're more of a game guy.
Paulette: Yeah, you're very... you're very gamey. | permalink
Bobby: Have you ever seen a horse race before? Have you ever, like, heard one on the radio?
James Brennan: Harness racing or, like, the normal kind?
Paulette: That's a good question.
Bobby: That doesn't really matter. Look, the Kentucky Derby, have you seen the Kentucky Derby? The way they announce it on the radio, and it's really...
Paulette: Yeah, 100, 200, going...
Bobby: That's an auction, sweetie.
Paulette: Right. | permalink
Jack: We decided that, we want you to be on camera.
Alison Scott: Oh my god, really?
Jill: I know, I was so surprised too. | permalink
Jill: Oh, no, we're not asking you to lose weight. That would be illegal. We just want you to be healthy, by eating less. So go home, weigh yourself on a scale, write than down. Then subtract 20 from that number. And weigh that. Yeah. | permalink