It may have taken a month, but Men in Black 3 (check out an exclusive clip) is the first film not to be called The Avengers to top the box office. The return of Will Smith and Tommy Lee Jones after ten years proved to be the magic combination once again as their third Men in Black film scored $70 million over the holiday weekend to top the box office.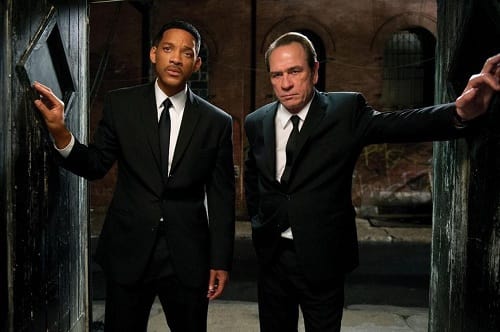 The Avengers
is still raging. The Marvel Studios film added another $46.9 million to its haul, bringing its domestic total to $523.6 million.
Battleship
landed in third place with $13.8 million. The Peter Berg sci-fi sea epic has now earned a total of $47.2 million since its debut.
Sacha Baron Cohen's latest comedy,
The Dictator
, continued to humor audiences. The Paramount film banked $11.8 million and landed in fourth place, bring its total to $43.6 million. Johnny Depp and Tim Burton's latest collaboration,
Dark Shadows
, closed out the top five. The film, based on the cult TV series, earned $9.4 million in its third week of release.
Box office top 10:
1.
Men in Black 3
, $70 million
2.
The Avengers,
$46.9 million
3.
Battleship
, $13.8 million
4.
The Dictator
, $11.8 million
5.
Dark Shadows
, $9.4 million
6.
Chernobyl Diaries
, $9.3 million
7.
What to Expect When You're Expecting
, $8.9 million
8.
The Best Exotic Marigold Hotel
, $8.2 million
9.
The Hunger Games
, $2.9 million
10.
Think Like a Man
, $1.8 million