As we stated in our Men in Black 3 review, the best thing about the movie is the performance of Josh Brolin -- given the film is fantastic fun, that is truly saying something. Brolin sat down with Movie Fanatic to talk about how one even attempts to capture the nuances of cinematic delivery that is Tommy Lee Jones and even lets us in on a little Gangster Squad scoop.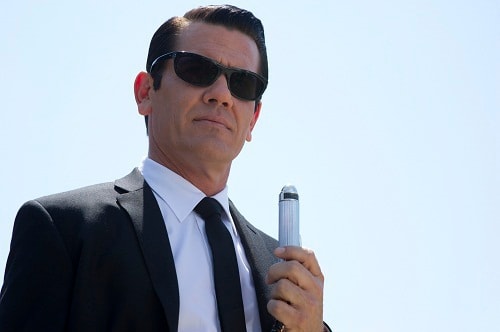 Brolin tackled
Men in Black 3
because he wants to be remembered not only for a certain type of film. "That's exactly why I did it. I bet the audience wants to see me in this," the actor said and laughed.
"It's totally selfish and personal. I like to have fun. I'm a total goof. Honestly -- as a whole -- serious movies are much more fun to work on than comedies, because you're compensating for the drama. For me, it sounds so cliché, but I want to keep challenging myself. My goal is to be on my death bed and look back and chuckle. I'm starting to chuckle a little bit right now. It's a really nice feeling. The guy from
No Country
did
Men in Black
and also did
Milk
and also did
W
, that's a really nice feeling."
Immediately he and co-star
Will Smith
clicked. "The first time you meet Will, he's like, 'Heeeeeeeeeey!' You're like, 'Wow! You serious?' It's just funny, man, it's funny. It's like going to an insane asylum," Brolin said, although Brolin admits that getting along with your fellow actor has nothing to do with their mission as performers in a film.
"The chemistry with Will was either going to be there or it's not. It's just luck. I remember acting with someone who I didn't like so much. He said, 'I feel like you don't like me.' I said, 'I don't have to like you. I'm an actor.' Which wasn't a nice thing," Brolin said, chuckling. "The truth of the matter is I hadn't met Will before we went into rehearsals. I had a lot of nerves about getting the Tommy thing right. I had my iPod, watched
Men in Black
50 times, but the minute I got together with Will it was seamless. It was like, 'Thank you God.'"
Effectively portraying Agent K is integral to Men in Black 3 working… and it does. What Brolin has done is created his own character, while uncannily channeling Tommy Lee Jones and his iconic portrayal of the franchise's beloved veteran agent.
Initially, Brolin wanted to quit. He felt it was a thankless task if you get it wrong and an even more thankless achievement if you get it too right so that it comes off as an impression. "I wanted to call Sony and tell them that they were wasting their money doing this because I can't do this. All the actor stuff," he said with a laugh.

But, he found a way. "I was down in Mexico. I rented a hotel room with my computer and my garage band and went through it. You find one thing that sounds good. With (George W.) Bush, his 'U' is said all alike. Or the vowels will be alike. The breathiness and all that… Tommy's all over. It's like he's improvising his voice. It's still cultivating into something that we won't know until the end. It's an instrument that's been played by nobody that somebody says, 'Not only do you have to learn how to play this, but make an album in two months that everybody will hear.'"
We couldn't sit down with Brolin and not ask him about the highly anticipated 1930s-set Gangster Squad. His reasons for doing the film are truly fascinating. "Honestly, first and foremost, I'm proud of L.A. I remember as a kid, being an actor studying in New York, and everybody was kind of ashamed to be from California. California is pretty frickin' great! So Gangster Squad is a movie about California, about Los Angeles, and I love the idea of that," Brolin admitted.

Brolin received help from the man who inspired him to act in the first place. "My dad (James Brolin) came to the set one day -- which he usually doesn't do. He came one day where (John) O'Mara's (Brolin's character) house is and we were out on the porch looking out. It's one of the streets that hasn't changed. I don't come to him normally and say, 'What was it like…' because he denies his age," Brolin said and laughed.

"He sat back, and for 45 minutes he started telling me all these stories. It was innocence in his eyes. And I was like, 'That's why I'm doing this film.' Even though that time in L.A. history was severe, with all the gun battles -- all that stuff -- there was also an innocence to it that I really, really wanted to experience. So, I did -- through my Pop as much as I did through the movie."