Sometimes when films come back for a sequel or a third in a trilogy after a long absence, the result is less than savory. With Men in Black 3, it's a case of, to quote the chorus from the famous 1970's song, "Reunited and it feels so good."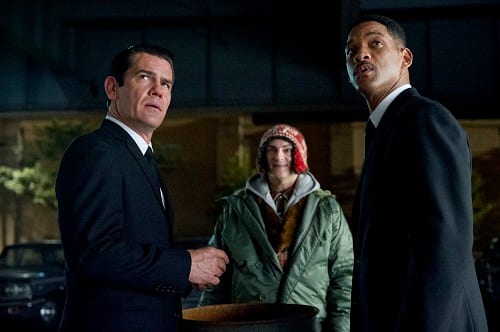 The first
Men in Black
debuted in 1997 while the sequel arrived in 2002. If we're sensing a pattern here with five years between the original and its sequel, ten years between the sequel and the trilogy closer… perhaps
Men in Black 4
is in the cards in 2027. Given what a fun journey the third installment in director
Barry Sonnenfeld
's sci-fi comedy series is, Movie Fanatic hopes the fourth film does not take that long.
The
Men in Black 3
creative team have injected their franchise with electricity by having
Will Smith
and his Agent J go back to 1969 and meet up with a younger version of the
Tommy Lee Jones
character, Agent K. In the late 1960s, K is portrayed with uncanny expertise by Josh Brolin. Not only does the plot move keep the series fresh, it is also a stroke of brilliance with its storytelling timbre. 
Men in Black 3
begins with a jailbreak. Boris the Animal (don't call him that to his face if you treasure breathing), as inhabited by
Flight of the Conchords'
Jemaine Clement, is a villain worthy of the cinema's best. His presence, as shown by him owning the film's opening scene, is explosive as he escapes from the Men in Black containment facility for the worst of the universe's worst.
What made the first
Men in Black
so classic was the work of Vincent D'Onofrio as Edgar. His was an evildoer where we pulled for our impeccably dressed secret government agents to send him back from whence he came. In the third film in the series, it seems Agent K and Boris have a history that dates back to 1969. When the Jones character gets mysteriously cryptic with his partner and then disappears, Smith's J learns about time travel from Men in Black's new head brass, led by Agent O (Emma Thompson). What's J to do? Why, he heads back to the year that saw a man land on the moon for the first time.
The way Sonnenfeld utilizes the frenzy over America's ability to actually put boots on the moon as part of the Men in Black lexicon is genius. Witnessing Brolin as a young K is a study in how to impeccably imitate someone like Jones, but also a master class in Acting 101. Brolin crafts an Agent K that is every bit Jones, but never feels like an impression. It is uncanny.

There's also the astounding work of makeup specialist Rick Baker and his team to create aliens that are firmly in the Men in Black world, yet still feel wildly original. The always reliable and charismatic Smith and Jones tandem is why Brolin and Smith can be so effective together. Why the classic actor from Texas and the former rapper from Philadelphia make movie magic is a mystery. Yet, they do and witnessing them (and Brolin) as Agent J and Agent K is why, when all is said and done, Men in Black 3 is a pure joyride.