Mila Kunis Exclusive: Shining a Light on Oz The Great and Powerful
by Joel D Amos at . Comments
Mila Kunis is blowing up. There is no better way to describe the career the Ukrainian-born actress has had since first appearing on That '70s Show. Since that program ended, she has appeared opposite a who's-who of movie actors including Denzel Washington, Jason Segel and Mark Wahlberg. Judging by her reaction by simply mentioning James Franco's name, it appears her co-star in Oz: The Great and Powerful may be her finest moment. "Look, he is incredible," she then paused and coyly smiled. "You can look back on any interview I've ever done where they mention James… and I just light up."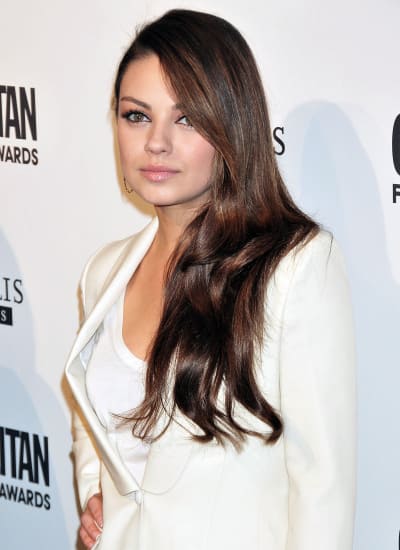 Movie Fanatic caught up with Kunis in Las Vegas recently to discuss her work on the new Sam Raimi (
Spider-Man
) film that takes us to the beginning of the story and informs audiences what made
The Wizard of Oz
, well… Oz.
Kunis portrays an iconic part in the film, but is tight-lipped about much more than that. Yes, we know she plays a witch, but which one? "She's a good girl," Kunis admitted and laughed.
Raimi's film is not a remake of the original in any form. "It's a modern-day version of it," Kunis said. Look for viewers to get the inside scoop on
The Wizard of Oz
story that we don't know. "It's going to explain a lot. It's going to ground the story that everybody loves and knows so well. It will ground it in reality."
Talking to Kunis, it's hard to say what meant more to her, working with Raimi or a cast that includes Franco, Michelle Williams, Rachel Weisz and Zach Braff.
When it came to her director, Kunis said that she simply wanted to do everything in her power to realize his astounding vision. "I love Sam. He's a great person. He's a brilliant director. He's so visual. He's so passionate about everything that he does, that you want to make him happy," Kunis said. 
The artistic process of bringing
Oz: The Great and Powerful
to life clearly inspired Kunis, as she doesn't stop at raining praise on her co-stars and director when extolling the virtues of her incredible experience filming the movie. "It was mind-blowing to walk on the set every day and look around at James, Michelle and Rachel," Kunis said.
"Even forget the cast. Look at our crew. It was top of the line. Every department was the best of the best! At one point James (Franco) and I were riding in one of the carts through Emerald City on the set and we looked at our special effects department. Every single one of those guys has an Oscar. We have the most amazing people working on this film. It was breathtaking. For James and I to legitimately be a part of this, it meant the world."