Moonrise Kingdom may be the perfect movie. It is astoundingly well written, acted, directed, scored and possesses a charm that is unshakable. The film immediately impresses with its feel. It takes place on a New England island with a unique, even for Anderson, group of characters. The cast is astounding and features Bruce Willis, Edward Norton, Frances McDormand, Jason Schwartzman and Bill Murray (both Anderson staples).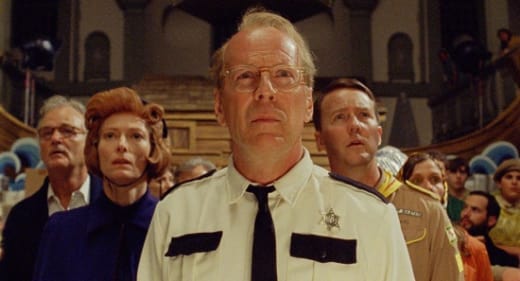 The first thing that grabs you is the set design. Anderson has painstakingly crafted a world that is firmly set in the early 1960s, yet doesn't feel the need to populate that world with pop songs of the era to reinforce that fact. That is because his
Moonrise Kingdom
universe so impeccably possesses a textured tone that is not only uniquely Anderson's, but also is firmly planted in the era it possesses. Instead of relying on a crutch of the time period's pop hits, the film is scored with classical music introduced first in the film's true opening scene.
We meet the Bishop family -- a seemingly happy clan, led by two lawyers (Murray and McDormand). They have three young boys and a precocious teen, Suzy, played by Kara Hayward. Meanwhile, audiences are introduced to the Khaki-adorned scout troupe led by Scout Master Ward (Norton). These boys live in perfectly lined-up tents and follow their leader with extreme efficiency. Only thing is, when they awake on this the opening morning of the film, one of their own has gone missing.
Sam (Jared Gilman) has left the scouts with nothing but a note that comically feels like a letter of resignation. Immediately it sets off an island-wide search for the missing boy that ensnares the island's lone police officer Captain Sharp (Willis, next seen in
Looper
).
As Anderson begins to paint his tapestry of a story, we have been introduced to all the main characters, but his Sam is (as he is on film) noticeably missing. When we finally meet the young lad, he is precocious and prickly. He is an orphan and has decided to take his fate into his own hands… but why? It seems Sam and Suzy have become pen pals and developed a bit of an innocent romance. Audiences are finally introduced to Sam as he meets up with the recent runaway Suzy. With Sam's stellar scout skills, their survival in the woods is never in question. We delight in their relationship which is as childlike as it is powerful.
Yes, backstories abound, but you must see the film to completely enjoy their resonance as Moonrise Kingdom is packed with typical Andersonian panache. What amazes us is how the filmmaker has composed a world that never gives us any indication of what is going on outside the island and we don't care. Every nuance and seemingly superfluous moment onscreen is one to treasure.

The marvel above all others that fill the screen over its running time is how the writer-director employed two performers with little previous screen experience to carry his film. This entire instant classic is carried by an ensemble of pros whose work we expect to be of the highest order. Yet, its two young stars perform their roles with a presence that one expects of actors three times their age.

Without any reservations, Moonrise Kingdom is thus far the absolute best film of 2012. It should not be missed on the big screen to allow the viewer to fully delve into the world of a film master at the height of his game.