Red Tails lands on Blu-Ray and DVD and brings with it the story of one of the more important moments in Civil Rights for Americans. The Tuskegee Airmen were the first African American pilots and their struggle to serve their country is chronicled in the film from producer George Lucas.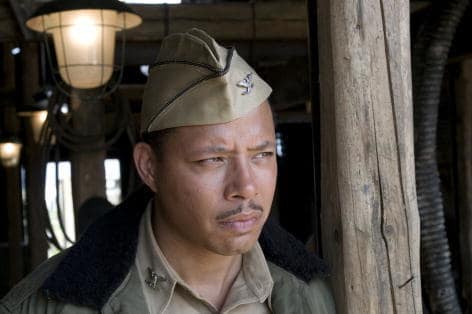 First and foremost,
Red Tails
sports a stellar cast. Oscar winner Cuba Gooding, Jr. and Oscar nominee Terrence Howard lead as officers who put their careers on the line on multiple occasions to speak up for what's not only right for equality but, as history has proven, what was right for America and the effort to win World War II.
Both actors rise to the occasion and inspire the young cast including Tristan Wilds, Ne-Yo, David Oyelowo and Nate Parker. The film has such power that it even managed to snag
Breaking Bad
star Bryan Cranston in a small and against-type role.
The timing of the Blu-Ray and DVD release is terrific with Memorial Day around the corner. In fact, it's hard to believe that this particular World War II story hasn't been told on the big screen as director Anthony Hemingway achieves in
Red Tails
.
As seen in brilliant hi-def on our Blu-Ray review copy, Lucas' handprints are all over the film's aerial fight scenes. It is mayhem captured as no other World War II fight sequences have achieved prior. The man is certainly in his element when it comes to special effects. And as producer, he lets the storytellers do their thing while his wide scope of an eye for the visually arresting enhances the story without getting in the way of it.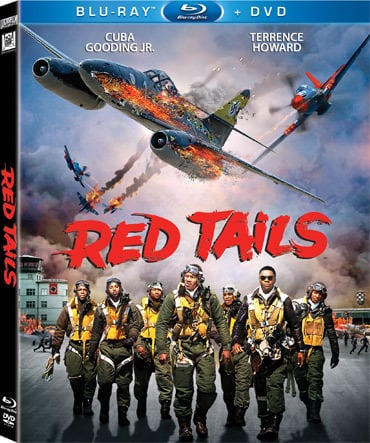 The
Red Tails
Blu-ray Combo Pack special features that rocked our world include the fascinating
Double Victory: The Tuskegee Airmen at War
. Movie Fanatic would almost suggest watching that doc first -- prior to taking in the actual film. It enhances the entire experience. The featurettes on Lucas, Hemingway and the cast of
Red Tails
are quite compelling as well.