Snow White and the Huntsman Exclusive: Sam Claflin Chats Becoming Prince Charming
by Joel D Amos at . Comments
Sam Claflin called us from London for an exclusive chat to talk about the eagerly anticipated Snow White and the Huntsman. The film lands in theaters with Kristen Stewart as the legendary fairy tale character, The Avengers' Chris Hemsworth as the Huntsman and Charlize Theron's Evil Queen. Claflin portrays the iconic Prince Charming and found the entire experience filming Snow White with director Rupert Sanders a dream come true.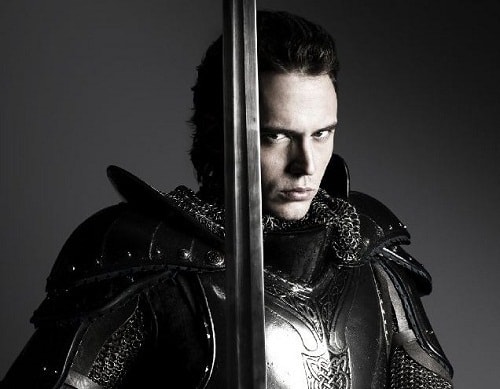 The moment Claflin first met Sanders and saw his vision strewn throughout the director's office with storyboards and artwork, Claflin knew he had to come aboard the Snow White ship. "He was so passionate about this idea that allowed his massive imagination to run wild," Claflin said. "Rupert is truly a genius."
The words on the pages of the script by Evan Daugherty, John Lee Hancock and Hossein Amini also clinched it for the UK actor. "I love how in the script we're reinvented and rediscovered this classic tale that we all know and loved and turned it on its head and retelling it with gothic effect," Claflin said.
The filming of
Snow White and the Huntsman
was trying. It was action heavy and allowed the actor to further his experience with stunt sequence work that he first tried on
Pirates of the Caribbean: On Stranger Tides
. "It was very hard work and physically demanding. Even the part of Snow White, she is a very physical and strong character. At the end of the day of filming, we were all tired," he said and laughed. "But, the thing is when you're so passionate about a project like this, we all went home really wanting to get back to work the next day. It was really fun. It never felt like it was work at all. It was a triumph on Rupert's part."
Sanders' film is hardly your grandmother's Snow White tale and that is evident from the first Snow White and the Huntsman trailer where audiences see Stewart's character all dolled up in armor, ready for battle. "Kristen Stewart… she really brought it. She has done everything in her power to make this the best it can be. People might have their reservations, but she's going to prove to people how amazing she is," Claflin said. He reported being inspired by how the Twilight actress handled herself, given the expectations thrown on her by audiences used to seeing her as Bella. "There's such pressure on her shoulders. Trust me, she will impress everybody. Without her, this film would not nearly be the great movie it is now."

One thing remains the same with the fairy tale and that is the romance surrounding Claflin's Prince Charming and the heroine of the title. Even though it is a role of a lifetime, the actor almost said no because early drafts of the script reminded him too much of another character he played recently. "I did have my reservations about filling Prince Charming's shoes. I thought it initially was a lot like the character Philip I played in Pirates of the Caribbean: On Stranger Tides. He was the guy who got the girl and straight-laced," Claflin said. After working closely with Sanders, the Prince Charming you see on screen is quite different from that first draft.

"Rupert and I devised this character that has so much bite, it's edgier than the classic Prince Charming. He doesn't mind rolling around and getting his hands dirty. It was a great opportunity for me."

Working on Snow White and the Huntsman gave Claflin an education he never would have received anywhere else.
"I'm proud now to step away from this and say that I did that. I needed to do this in order to grow -- having this opportunity to be surrounded by these incredible actors like Kristen, Charlize [Theron] and Chris [Hemsworth]. I grew up watching some of these people on television and in films. I'm proud of what we've all achieved. Hopefully, everyone will enjoy it as much as we did making it. I'm excited to see what other people think of it."
Claflin is dying to tell us about his favorite scene, but unfortunately, his description would be a spoiler! "I know it's very cliché, but every scene I was involved with was just fantastic to be a part of. There wasn't a dull moment on set. My first day of filming was my opening scene in the film. It's this big action epic scene with fights and stuntmen everywhere -- that was just a dream come true," he said. "I've grown up as a kid loving knights and horses and castles and all that stuff. To be on the set, with this Elizabethan backdrop, it was a schoolboy's dream come true."
As the film is set to premiere at midnight across the world, how is Claflin feeling? "It's a mix of nerves and excitement. It's exciting for everyone to see it, but I'm nervous for the feedback. Will people like it? Will they like the surprises and the unexpectedness of the film? My adrenaline is definitely visible. I'm never going to stop sweating ever again," he said, laughing.