The Amazing Spider-Man Behind-The-Scenes Photos: Garfield and his Stunt Double
by Micah J Gordon at . Comments
Apparently Andrew Garfield is too "fragile" to swing from a mall ceiling and land on a bunch of tables and chairs. Psh. Next he'll hire a stunt double to summer on the Cape for him.
Four behind-the-scenes photos have surfaced showing The Amazing Spider-Man star Andrew Garfield and his stunt double, William Spencer, in action (click the thumbnails to enlarge).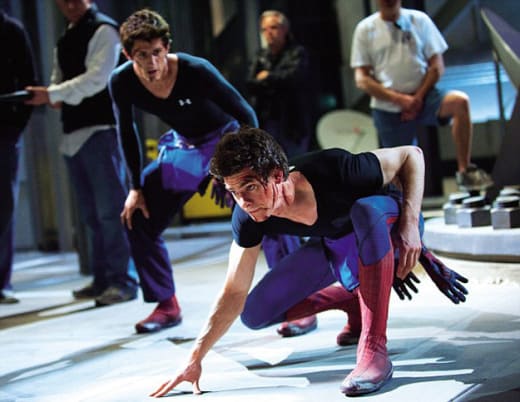 The Amazing Spider-Man stars Garfield along with Rhys Ifans, who also starred in this year's The Five-Year Engagement (check out our The Five-Year Engagement quotes page), and Emma Stone. Stone got her start five years ago in the hit high school comedy Superbad (here are some Superbad quotes), and five years later she's still playing a high schooler.
The highly anticipated superhero film opens July 3. In the meantime, if you stare long enough at The Amazing Spider-Man logo, it kind of looks like it's twitching. That's almost as good as seeing the film, right?