The Amazing Spider-Man's brand new trailer is premiering before The Avengers' midnight showings tonight. However, it was shown to Movie Fanatic yesterday and afterwards, we spoke with director Marc Webb.
A trailer must have spectacle, and this latest one does in droves. But, what it also does is sets up the emotional pull that the entire film experience will provide. Webb found that a challenge, but a welcome one. "That's the thing for me, the access point," Webb said. By having a clip of his parents, and a bit with Aunt May as well as the strong presence of Emma Stone's Gwen Stacy and their romance, Webb has dropped just enough emotional power to have it connect to the entire film.

"I wish you were in the edit room! I could show you scenes that would describe it," Webb said and laughed. "It's just something that I love in movies, that particularly romantic dimension. It's something that I'm very familiar with -- girls and being made nervous by women. The interpersonal relationships that Peter Parker has are so simple and so domestic that it's a very fun dichotomy to play that big, massive spectacle alongside those very small moments."

One of the things that pop out from the new Amazing Spider-Man trailer is the character design of the Lizard, which we see more of than ever before. What Webb wanted from his villain is certainly clear from the new visuals. "I wanted to make him stronger than Spider-Man, that was a really important part," Webb added.

As embodied by actor Rhys Ifans, Webb wanted to make sure he didn't lose any of the actor's brilliance to special effects. "The performance capture stuff done with Rhys, I did to get his facial composure. I wanted to keep Rhys' performance in that creature. Rhys' performance is giving that nuance, getting the eyebrow tics and the looks. Creating an armature that can actually speak and lips that make sounds, it's a very detailed and tedious, frankly tedious process," Webb said. He admitted he's still working on it to make it even more lifelike than we see in the third trailer. "I actually just came from trying to incorporate his performance into the Lizard itself. That takes an enormous amount of time."

What also screams out of the new teaser, and was representative in the earlier ones as well, is this is clearly a wildly different vision than the Sam Raimi trilogy. For obvious reasons, Webb wanted to go in a drastic direction and also focus on things that were omitted from the Tobey Maguire-starring Spider-Man films.

"There are certain iconic elements of Spider-Man that I felt obligated to honor. But, I wanted to build something with a different tone and a different attitude and do things in a little more of a practical way, especially at the beginning of the movie," Webb said.

One aspect that Webb felt was needed in his film was that we already know Spider-Man's story, what is Peter Parker's? "If we've seen the origin of Spider-Man, maybe we haven't seen the origin of Peter Parker. I was always a Spider-Man fan, but I was a bigger Peter Parker fan than a Spider-Man fan," the director said. "There is an incredibly innocent and tender quality to Peter Parker. He's not a billionaire. He's not an alien. He's a kid and he doesn't have money. He has trouble with the people that raise him and he has trouble talking to girls. There's that intense relatability that's all throughout the movie."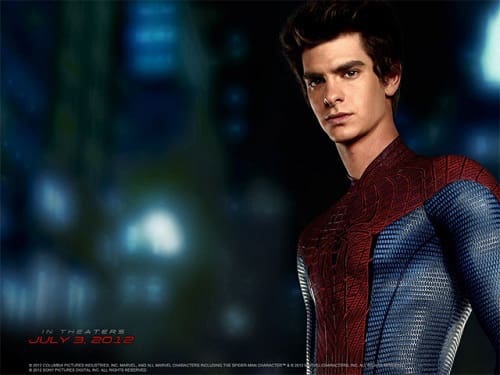 The storyline of having Parker search for his parents was an aspect Webb insisted on showcasing in his
The Amazing Spider-Man
. "That's the first domino in the story are the parents. He goes out looking for his father and finds himself. That's my tagline," Webb said and laughed.
The filmmaker still stuck to the framework that has made the character a pop culture sensation for decades. "There are elements that Marvel was very protective of and I think are very important parts of the Spider-Man origins story. Uncle Ben's death transforms him and has a huge impact on him. That's an incredibly important part of the mythology. I would never subvert that."
There's also the humor of Parker that was missing in Raimi's flicks, but is ever present in the iconic comics. "That's something from the comics that I've always been really a fan of. Humor's a tricky thing because it's always very subjective. But, Peter getting left behind by his parents… I thought to myself, 'What does that do to somebody? How does that change your view of the world?' To me, that creates a little bit of a level of distrust. Then there's a sarcasm that comes from that. You have seen some of the car thief scene where that attitude comes out. He's a little bit mean. He's a little bit snarky. But that's an attitude that we can all understand and relate to. That was fun to explore the humor but my point is that the humor comes from a very human real emotional place. It's not just slapped on."